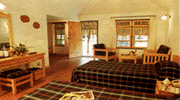 The Tariff is inclusive of boarding, dining,treatment, medicine and service charges.The course of treatment varies between 3, 7, 11, 14, 21 & 28 days, according to the severity of the diseases and response of the patient. Each treatment is to be carried out, depending up on the body constitution and condition of the person ,with much care and caution.
Discourses and demonstration programs on Ayurveda,Yoga, Natya(Indian dance forms) Vastuvidhya (Indian Architecture), Jyotisha (Indian Astrology), Kalaripayattu (Indian Marital Arts) and regular practice of meditation are conducted. Sight seeing tours, Beach trip (nearest beach is 14 Km from the center) and backwater cruise will be arranged on request. Diet will be exclusive vegetarian Ayurveda cuisine and served strictly as per physician's advice.

The center is situated in a lush green Village spread over 40 acres close to forest area.

... so calm, quiet, away from pollution.
... far from the madding crowd.
... where birds still sing.

The nearest airport is 48 Km and Railway station is 20 Km away from the center.`To and Fro` Air Port transfer will be arranged on pre-request.