Appam & Stew is a typical Keralite breakfast equally loved by people of all ages.
Ingredients
For Appams:-
1. Basmati rice - 1 cup (soaked for atleast 3 hours)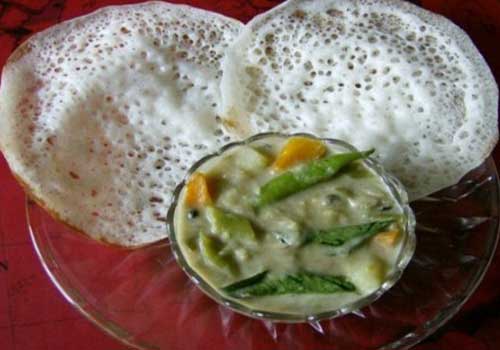 2. Coconut - 1/2 of one
3. Cooked rice - 3 tbsp
4.Salt - As reqd
5.Sugar - 1 tsp
For Stew:-
1.Potato - 1 no
2.Soaked green peas - 1/2 cup
3.Beans - 3 - 4 nos
4.Carrot(diced) - 1/2 cup
5.Green chillies - 3 nos
6.Ginger(grated) - 1 tsp
7.Garlic(grated) - 1 tsp
8.Garlic(grated) - 1 tsp
9.Onion(large) - 1 no
10.Small onions(crushed) - 1 tsp
11.Coriander powder - 2 tbsp
12.Garam masala - 1 tsp
13.Thick coconut milk - 1/2 cup
14.Thin coconut milk - 1 cup
For garnishing:-
1.Ghee - 1 tsp
2.Dry red chillies(Kollamulaku) - 2 nos
3.Small onions(Kunjulli) - 1 tsp (finely sliced)
4.Mustard seeds - 1 tsp
Preparation Method
Grind together basmati, cooked rice and coconut along with 1/2 cup water finely.
Keep aside in a warm place for fermenting. :- It will definitely ferment when kept overnight. If you live in a cold region, keep the vessel in hot water.
Add water, salt, a pinch of soda bicarb and a tsp of sugar to the fermented batter.
For making the stew:-
In a pressure cooker, saute the onion, ginger, garlic, small onions, and green chillies.
When onion starts becoming translucent, add the vegetables and stir.
Add coriander powder and stir for 1 min.
Add 1 cup of thin coconut milk and mix well.
Cook on high flame up to 1 whistle and later, on low flame for 5 mins.
After the pressure settles, add the thick coconut milk and stir.
Add garam masala. :-Do not heat after this.
Add pepper if needed. :- A tsp of Ari podi(Rice flour) can be added to make the stew thick.
Splutter mustard seeds, small onions, dry red chillies, and curry leave in ghee.
Garnish the stew with the above.
N.B: Chicken also can be added to this stew.