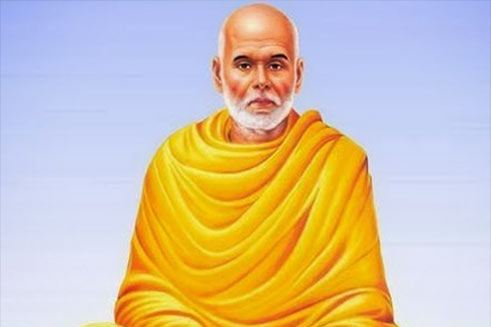 Narayana Guru (1855 - 1928), was a Hindu saint, sage, prophet and social reformer of India. The Guru was born into an Ezhava family, in an era when people from backward communities like the Ezhavas faced many social injustices in the caste-ridden Kerala society. Gurudevan, as he was fondly known to his followers, revolted against casteism and worked on propagating new values of freedom in spirituality and of social equality, thereby transforming the Kerala society and as such he is adored as a prophet.
Narayana Guru is revered for his Vedic knowledge, poetic proficiency, openness to the views of others, non-violent philosophy and his unrelenting resolve to set aright social wrongs. Narayana Guru was instrumental in setting the spiritual foundations for social reform[3] in today's Kerala and was one of the most successful social reformers who tackled caste in India. He demonstrated a path to social emancipation without invoking the dualism of the oppressed and the oppressor.
Guru stressed the need for the spiritual and social upliftment of the downtrodden by their own efforts through the establishment of temples and educational institutions. In the process, he brushed aside the Hindu religious conventions based upon Chaturvarna.
Narayana Guru was born on August 20, 1856, in the village of Chempazhanthi near Thiruvananthapuram, the son of Madan Asan, a farmer, and Kutti Amma. The boy was dotingly called Nanu. Madan was also a teacher ("Asān") who was learned in Sanskrit and proficient in Astrology and Ayurveda. He had three sisters. As a boy, Nānu would listen to his father with keen interest when he narrated stories from the Ramayana and the Mahabharata to the simple folks of his village. Nānu was initiated into the traditional formal education Ezhuthinirithal by Chempazhanthi Pillai, a local schoolmaster, and a village officer. Besides schooling, young Nānu continued to be educated at home, under the guidance of both his father and uncle Krishnan Vaidyan who was a reputed Ayurvedic physician and a Sanskrit scholar, where he was taught the basics of the Tamil and Sanskrit languages and traditional subjects such as Siddharūpam, Balaprobhodhanam, and Amarakosam.
As a child, Nanu was very reticent and was intensely drawn to worship at the local temple. He would criticize his own relatives for social discrimination and the apartheid-like practice of segregating children from, supposedly, lower castes. He preferred solitude and would be found immersed in meditation for hours on end. He showed a strong affinity for poetics and reasoning, composing hymns and singing them in praise of God. He lost his mother when he was 15. Nanu spent the most part of his early youth assisting his father in tutoring, and his uncle in the practice of Ayurveda, while devoting the rest of his time for devotional practices at the temples nearby.