This instant, saucy, snacktime dish which can be easily prepared, serves as an ideal item used with meals and Chappathi as well.
Ingredients
1.Chicken - 250 gm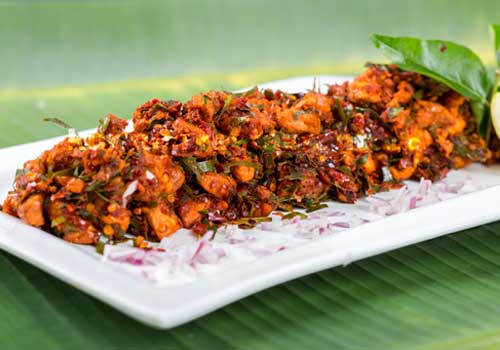 2.Dry chilly(whole dry) - 4
3.Coriander seed(whole) - 12 gm
4.Peppercorn - 5 gm
5.Cumin seed - 5 gm
6.Shallots - 50 gm
7.Green chilly - 2
8.Garlic(whole) - 1
9.Curry leaves - 2
10.Coconut oil - 25 gm
11.Turmeric powder - a pinch
12.Salt to taste
Preparation Method
Crush chicken and keep separate.
Roast dry chilly, coriander seed, peppercorn, cumin seed and crush it.Crush shallots, green chilly, garlic and curry leaves.
Add crushed chicken and other ingredients in the heated oil and cook on slow fire until dry.
Garnish with curry leaves and the lemon wedge. Serve hot.