This special and spicy fried fish item can be had ideally as an evening snack. It can also be served as a side dish along with meals.
Ingredients
1.Karimeen (Pearl spot) - medium size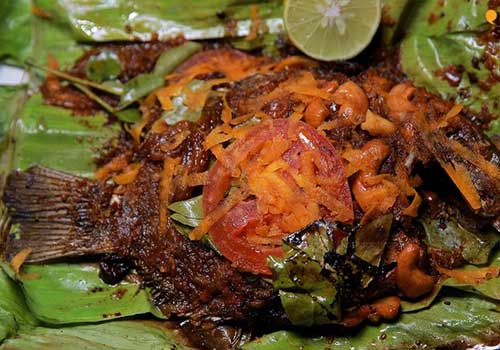 2.Onion - 1 sliced
3.Tomato - 1 finely sliced
4.Ginger - 1 small piece julienne
5.Garlic - 5-6 julienne
6.Green Chillies - 3 slit
7.Curry leaves - 2 bunches
8.Coccum - 1piece
9.Chilly powder - 1 tsp
10.Coriander powder - 1 tsp
11.Turmeric powder - ½ tsp
12.Coconut Milk - 1st and 2nd milk
13. Shallots sliced - 1 tsp
14.Mustard - 1 pinch
15.Coconut oil - 30ml
Preparation Method
Marinate the Karimeen in half-teaspoon turmeric and salt for ten minutes. Then semi fries it in coconut oil.
In 30 ml coconut oil sauté sliced onions, ginger, garlic, and curry leaves till onions are golden brown. Then add tomatoes and the turmeric and stir well. Add turmeric, chilly powder, coriander, salt, and coccum. Add the 2nd milk of coconut. Place fish and boil for five minutes. Add first coconut milk, simmer and take off the fire.
On a separate skillet, add oil and temper mustard seeds, curry leaves and shallots. Garnish the fish with this and serve hot.