Here's a typical Tamil Brahmin dish, crisp and sweet, that can be easily prepared as a snack item and served to guests or friends who'll simply relish it!
Cuisine Style Palakkadan
Ingredients
1.Rice flour-200gms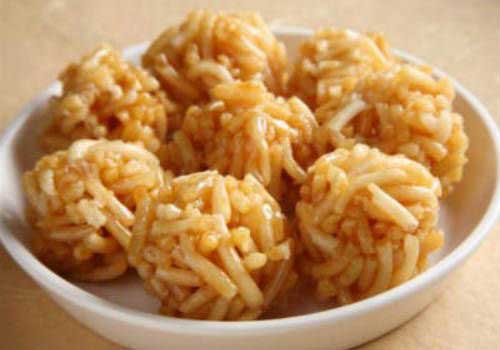 2. Black gram dal flour(Uzhunnu maavu)-2 tbsp (50gms)
3.Salt-to taste
4.Ghee-50 gms
5.Jaggery-250gms
6.Cardamom powder-1/4tsp
7.Oil to fry
Preparation Method
Mix rice flour, black gram dal flour, ghee, and salt.
Add a little water and make a soft dough.
Press it in the mold (kuzhal) and deep fry in hot oil as in the case of Murukku or Thenkuzhal.
Break the fried item into titbits and keep it aside.
Make a syrup with jaggery and 1/2 a glass of water. Strain and boil till it is of thick consistency.
Mix cardamom powder in the syrup and add the fried tidbits to it.
Cool and enjoy the "simply mmm….manoharam" taste!