Vegetable Kebab is a popular dish equally loved by all ages of people. This dish is highly nutritious too.
Ingredients
1. 2 potato (alu)
2. 1 cup cottage cheese (paneer)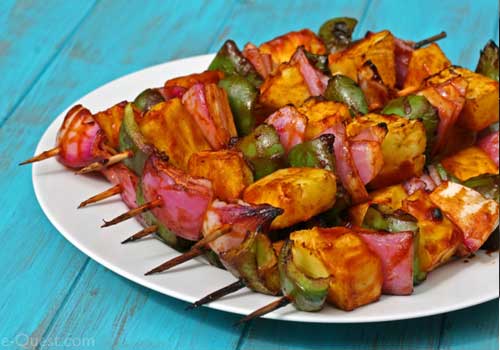 3. 1 cup cauliflower (Phool gobi)
4. 1 cup cabbage (patta gobi)
5. 2 green chilly (Hari Mirch)
6. 1 tbsp coriander (dhania patti)
7. 1/4 tsp Ajinomoto powder
8. 1 cup refined flour (maida)
9. 1/2 tsp red chilly powder (Lal Mirch)
10. oil for frying
11. 1 tbsp clarified butter (ghee)
12. 1 tsp salt (namak)
Preparation Method
Boil, peel and grate potato. Grate paneer also. Finely chop dhania and Hari Mirch.
Grate both the gobies.
Heat oil in a pan and fry both gobies with Ajinomoto powder. After frying for a few minutes,
add alu, paneer, Hari Mirch and 1/2 tsp namak and cook until the water dries up.
Remove it from the flame and let it cool.
Make small balls of the mixture and keep aside. Make a batter by mixing maida, 1/2 tsp salt, lal mirch, and 1 cup water. Heat oil in a pan.
Dip all the balls in maida batter and deep fry them until they turn golden brown. Serve them hot.