In Ayurveda Massage has a prime placement for treating the healthy and ill persons; one to retain the health and other to attain the health. According to the famous Arab Physician Avicenna( A.D. 100), "The object of Massage is to disperse the effate matters (TOXINS) that found in the muscles that are not expelled by exercise."
Ayurvedic Massage with aromatic Herbal Oil, directly penetrate into the muscles and Circulatory System including the bone marrow and excite the internal organs such as brain, heart, lungs, spleen, pancreas, kidneys, glands etc. It expel all impurities and toxic substance that might have settled in the body due to inhalation of polluted air, consuming modern medicines, eating under nourished and incompatible food , smoking, drug addiction, abuse of life etc.
Ayurvedic treatment are recommended for every individuals :- young and old, healthy and unhealthy, men and women of all ages. All sorts of people such as students, athletes, doctors, lawyers, engineers, research personals and all elites in the commanding professions need regular Ayurvedic rejuvenation treatment.
Everything in the universe is made up of Energy. Our vitality and our sense of aliveness come from Energy.
| | |
| --- | --- |
| | A divine Cosmic Energy (Chetana) is constantly flowing through our body. When this energy flow is smooth and unimpeded we remain healthy; but when ever this flow of Energy is interrupted or blocked, diseases occur. Massage has a beneficial effect in stimulating the Nervous System and opening the energy path, sending the healing energy to all internal organs thus restoring the harmony to all parts of human body. |
| | |
| --- | --- |
| The effect of Massage can even reach upto the bone-marrow and activate the whole system. Application of Ayur herbal oil on the head and forehead, a most sacred part of human body directly activate and nourish the brain cells and improve the intellectual and memory power. | |
Ayurvedic Medicines are free from chemicals. It has no side effects. The Medicines are prepared from Herbal plants only.
In Ayurveda there is cure for all diseases such as arthritis, rheumatism, heart diseases, obesity, diabetes, blood pressure, asthma, respiratory complaint, psoriasis and other related skin problems cancer, leukaemia, mental distress and psychosomatic diseases, impotence and sexual debility, spinal and vertebrae problems and many more maladies.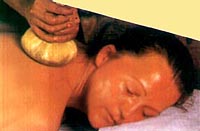 Ayurveda has a vital role in preventing the diseases, healing the illness and at the same time rejuvenating the body and mind.
The benefit achieved from Ayur-treatment are many. Chronic Disease are cured successfully through a special treatment called 'Panchakarma'. Panchakarma is a five-type of Purification Therapy concerned with providing an enhanced health and increased Life-Span.
THE PANCHAKARMA / REJUVENATION THERAPY
Few days of oleation and panchakarma Therapy can bring a new – life style within yourself. You will be more cheerful and active, since the Therapies are aimed to expel all the impurities and Toxins from the body completely, you get prolonged immunity power against deadly diseases. Moreover, the panchakarma Therapy will help to combat many common problems of aging such as :-
Sexual debility and nervous disorder, Rheumatism and Arthritis, Psoriasis and other Skin Diseases, Diabetic and Blood Pressure, Bronchial Asthma and Respiratory problems, Heart Ailments and Circulatory problems, Spine and Vertebrae Ailments, Paralytic Disorders, Obesity, and many more maladies.
Ayurveda has an exclusive advantage for treating and curing most of the diseases by external application of Medicines.
For a physical, mental and emotional well being
&
A stable youthfulness, indulge Ayurveda.
The secret of good health lay in nature, the fundamental of Ayurveda. There is no disease such as incurable; all diseases are curable by nature and natural medicines.
OUR SPECIALITIES
The to and fro transportation of customers from airport or residence
Medical examination, health study and therapeutic procedure (if necessary)
Nutritional food including exquisite Kerala cuisine
Leisure trip in and around Munnar
Free Accupressure and Yoga therapy
For extreme bliss and happiness of the inmate, a music therapy is currently introduced at our health resort..
FOR FURTHER DETAILS CONTACT
SURYA AYURVEDIC HEALTH RESORTS
A.M.ROAD, CHITHIRAPURAM, MUNNAR. PIN – 685 668.
PHONE : 04865 – 63204, 63123., FAX : 091- 487 - 331347
E-mail : surya@kerala.com