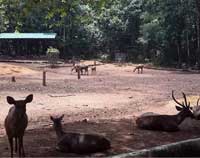 Abhayaranyam mini zoo
Abhayaranyam mini zoo was launched on 18th February 2011.As the number of animals kept increasing in Elephant training centre and as there was no enough space for them in the 2.5 acres of land it was decided to open the mini zoo which is 2 km away from the current location. The project is aimed at providing shelter to the elephants and other animals in open area of about two hundred acres with proper fencing to keep the animals safe and enough space for them to roam around. Also, this project is proposed to be a wild life safari place in the model of Bannerghatta National Park, Bangalore.
Thattekkade bird sanctuary
It was the First Bird Sanctuary in Kerala. It is almost 35 kms from Kodanad.It covers an area of 25 km2.It has rich and varied birdlife. It is a habitat for different varieties of Cuckoos and there is a region called Cuckoos Paradise which is home to them. Several species of birds like Orange-headed thrush, Large-billed leaf-warbler, Jerdon's nightjar, Indian cuckoo, Oriental darter, Cormorants, Whiskered terns, Collared scops owl, Ceylon frogmouth, Grey-fronted green pigeon, Yellow-browed bulbuls visit the sanctuaries
Bhoothathankettu dam
it is almost 34 kms from Kodanad.It is situated in a vast pristine forest. Trekking through the forest will be an invigorating experience. Boating facility is available here.The tourists can enjoy the celestial beauty of the nature and explore gorgeousness. The myth behind the name Bhoothathankettu is that the earlier generations believed that it was built by a Bhootam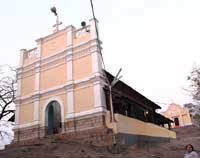 Malayattoor church
Malayattoor is famous Catholic Church. It is located on top of the Malayattoor hill, at a height of 609 m.The name is derived from three words Mala (Mountain) Arr (River) Oore (Place) which means it is a meeting place of mountain land and river One can enjoy the tranquillity of the Periyar river from the hill side. The church provides facilities for bathing in the river.
Poru Waterfalls Paniyeli
"Poru" is located in the banks of Periyar river in Paniyeli village in Ernakulam district. The astounding sight of Periyar River flowing through rocks and between dense forests and the serenity of the place makes it a unique one. It is an eco-tourism destination located 30 km from Kochi.It would be a heavenly experience watching the majestic river flowing through the rocks between the emerald forests in the background of the Malayatoor hills