AQUATIC – THE FLOATING RESORT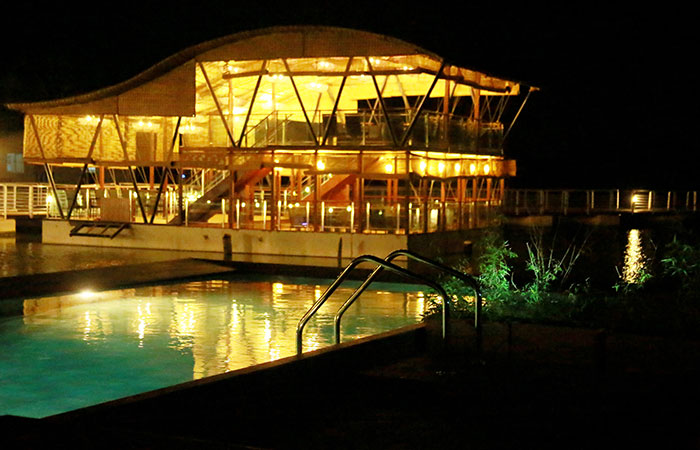 House Information
Contact Mail :reservation@keralatravels.com
Home Contact :91 98460 43403
House Description
The Aquatic 'floatel' village retreat is located close to the city of Kochi at the quiet village of Kumbalangi. The central Government has promoted Kumbalangi as the ideal destination to represent India's village tourism and the first and only one of its kinds in the country
Aquatic backwater resort consists of 5 luxurious floating units with a total of 10 aesthetically and functionally superb rooms.
Unique below the water level bedrooms. First time in India!
3 level units with private deck for each bedroom.
Ideal hide-out for honeymooners, doctors, engineers, private family gatherings and other special occasions.
Surrounded by backwater nurturing a precious eco-system.
At Aquatic, there is absolutely no dearth for things to do. There are a wide variety of thrilling activities that could keep you entertained and informed as well.
Excellent food sourced by an outstanding chef and his support staff.
India's first floating infinity pool.
Eco-friendly with state-of-the-art effluent treatment system.
Committed to responsible tourism.
FACILITIES
Front office desk operational 24/7.
Daily housekeeping included in the room rate.
Private bathroom available in each room.
There is no restriction in the length of the stay.
100% state-of-the-art effluent treatment facilities.
Asia's first sunken bedrooms in a fully floating resort.
Asia's first floating infinity pool.
AC in Bedrooms and Living rooms.
Eco-friendly materials for construction and all eco-friendly activities.
Wooden floors
Laundry facility upon request.
Mini-bar equipped rooms.
TV in living rooms and bedrooms.
Writing table in living rooms.
Well appointed bath rooms
Bamboo thatched roofs
RO processed water supplied in all rooms.
Bicycles supplied for safari.
Fishing gear and bait supplied.
Guided tours upon request.
First-aid kit.
Doctor on call.
error:
Content is protected !!