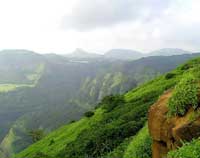 Peeru Hills
It is a hill station which is 4 km from Peerumedu and 1 km from Kutikanam. It is named after the Sufi saint Peer Mohammed. The trekkers would love to visit this place.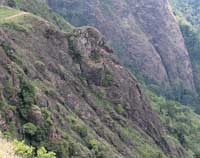 Parunthumpara

Parunthumpara is a small village, located between Peerumedu and Thekkady which is 6 km from Peerumedu.  It is called Parunthumpara or eagle rock because large area around it is like an eagle. The attractions here include Suicide Point and Tagor Head. It gives a sweeping view of Peerumedu which attracts lots of tourists. The tourists can spend their time on these undulating grasslands away from the scurry city life
Thottapura

It is the place where the Travancore royal family stored their weapons. It is a perfect place for trekking as well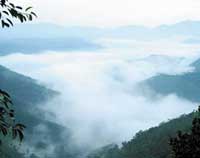 Baker-Hills(Thrisangu-Hills)
It is 4 Km from Peerumedu and 2 km from Kutikanam.These hills are ideal place to enjoy the sunrise and sunset. The rolling hills and the magnificent landscape add to its beauty.
Panchalimedu
It is about 10 km from Kuttikanam which is 2500 ft. height from sea level.  The serene breeze will touch you right at the beginning of the trek. The greenery and the flowers bound the pathway leading to beautiful meadows which gives a divine experience. It is named Panchalimedu since It's believed that Pandavas, heroes of the epic – Mahabharata stayed here, during their exile. There is small temple dedicated to Bhuvaneshwar There is a small pond "Panchalikulam" which is named after Panchali (wife of Pandavas), where she used to take bath.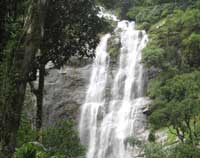 Valanjanganam falls
It is 5 kms from Peerumedu. The waterfall is about 75 ft. High. It is covered in mist and is worth a visit. This pristine white milky waterfalls is said to be originating from somewhere in the mountains of Kuttikanom.The celestial atmosphere and the misty waterfalls give a euphoric sense of happiness to the tourists.
Nallathanni View Point
The Nallathani View point is on Kottayam Kumily state highway.It is almost 37 km from Kutikanam.
Pine Forest

There is an artificial pine forest in Kutikanam which spreads over 100 acres of land. It is habitat for about 30 species of birds .The department of Forests and wildlife classified it as buffer zone. Pine trees will be 15-45 m tall. The thick forest of tall pine trees are worth watching. These add to the beguiling beauty of the entire place.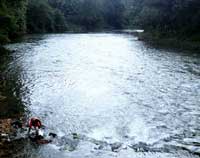 Azhutha Diversion Project
Azhutha River is a tributary of Pampa River. The Azhutha diversion project is built on the Azhutha River to divert water through 987 m long tunnel to Idukki reservoir. It is almost 4 km from kutikanam