MAYAS BEACH HOUSE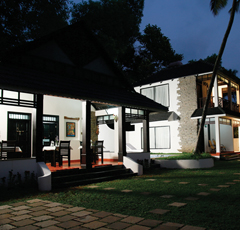 House Information
Contact Mail :reservation@keralatravels.com
Home Contact :91 98460 43403
House Description
Are you in search of a holiday home, to spend your vacation wisely? Then, Mayas Beach House, Alappuzha invites you to its vicinity. With a remarkable location, nestled in a coconut palm grove, this beach house gives a real flavour of authentic Indian life. The beach is stupendous with crystal blue water at the lap of the beach house. Enjoy the surrounding peaceful, quite and clean area, which adds charm to your vacation stay.

Accommodation
The cottages at Mayas Beach House are classified into Pepper Cottage and Chilly cottage:
Pepper Cottage
Pepper cottage has a spacious well lit bedroom with French windows that opens to the pool and garden. Big and soft bedding with fluffy pillows are specifically designed for your comfort. The floor is tiled with terracotta that keeps your feet cool and the traditional Kerala style wooden roofing keeps a moderate temperature in the room. Contemporary white walls can be seen in the rooms. An open to sky view bathroom is something special here.
Chilly Cottage
You will find a wooden stairways leading you to this beautiful cottage. The cottage has a private balcony with comfortable seating. From here you can enjoy the wind and can listen to the waves. The wooden roofing and terracotta flooring keeps the temperature cool here. A spacious bathroom with a small wooden window and traditional black tiles blends the west and tradition.
Dining
The dining at Mayas Beach House is unique with the combination of varieties of cuisines like:
Kerala Sadhya The traditional vegetarian feast provided here will be a different experience. You will be enjoying the feast combined with varieties of cuisines.
Beverages
The beverages provided here are mocktail exotica, sunshine, Arabic shake, Papa ban, Duches of winsdor, spit fire Breakfast
You can enjoy both traditional Kerala dishes like Idli­Sambar, Puttu­Kadala, Appam­Egg roast etc along with complementary continental breakfast like fruit platter, choice of seasonal juice, wheat bread with honey butter and homemade pineapple jam etc.
Dinner
The dinner at Mayas Beach House is a combination of veg meals, non­veg meals, noodles and pasta and healthy soups.
Services
Villa host
Transportation
Personal Supervision
Laundry and Ironing
House Keeping
House Chef
error:
Content is protected !!