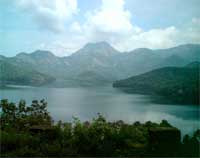 Pothundy Dam
It is situated 18 km away from Nelliayampathy.Built in the 19th century it is considered as one of the oldest dams in India which is hand made without using cement..It was built for irrigation purpose.It has facilities of boating as well. One can ordeal amazing view of Nelliyampathy Valley on the left side and the greenery of paddy fields on the right side once reached on the top of the dam through walway which no one would ever miss.
Seetharkundu Viewpoint
Seetharkundu Viewpoint is 8 km away from Nelliyampathy.It is believed to be the place where Lord Rama, Lord Lakshman and Goddess Sita rested during their exile.  The Seetharkundu Waterfall falls from a height of about 100 ft is worth a visit .Trekking and hiking along the banks of Seetharkundu river would be a thrilling experience . The site can be reached through buses from Palakkad via Nelliyampathy.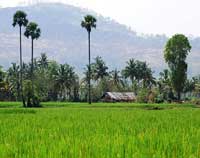 Nemmara
The village of Nemmara is located 24.8 km Nelliyampathy and is partitioned into two sections namely Nemmara and Vallangi. Nemmara is known by the famous festival called "NEMMARA VELA which falls on 2nd or 3rd to 16 of April every year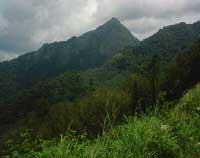 Padagiri
Padagiri is believed to be the tallest peak of Nelliyampathy Hills which stands at an altitude of 1500 m above the sea level.This place is enveloped in gorgeous teak plantation.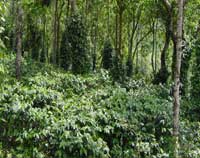 Poabs Organic Estate
It is one of the leading organic producers in India.It is situated in The nelliampathy Hills in Chittur thaluk. It is the largest perennial multicrop organic estate which grows tea and coffee, both arabica and robusta, with inter-crops of pepper, orange, vanilla and cardamom.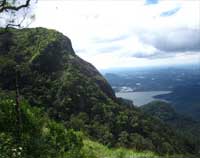 Raja cliff mampara peak
It is 20 km from Nelliyampathy.It is situated at a height of 5250 feet above sea level which is also attractive for its flora and fauna.The cliff offers breathtaking views of mountain ranges waterfalls and forests.This area is surrounded by number of tea gardens,coffee estates and cardamom plantations which makes it the most liked destination of the tourists.The region is also home to animals like sambar, giant squirrels, elephants and leopards
Parambikulam wildlife sanctuary
This sanctuary covers an area of 285 sq km and is situated between the Nelliyampathy ranges of Kerala and Anaimalai Hills of Tamil Nadu. It is believed to be established in the 19th century.The sanctuary has three man-made reservoirs; Parambikulam, Thunacadavu (Thunakkadavu) and Peruvaripallam, with a combined area of 20.66 km2. There are around 1049 species of insects, 124 species of butterflies, 61 species of reptiles and 268 species of birds inhabiting the sanctuary. 39 species of mammals, 47 species of fishes and 16 species of amphibians are also found here. Some of the commonly seen animals in this sanctuary are the Indian tiger, elephant, Nilgiri langur, leopard, sloth bear and sambar.
Malampuzha Gardens, Nelliyampathy
It is a beautifully landscaped garden infront of the Malampuzha Dam. It is 69.5 km from Nelliyampathy. There is a canal flowing through the middle of the garden, which has 2 hanging bridges above it.. Boating Facility is available in the Garden. The dam and the garden is illuminated at nights on Weekends and Public Holidays. Other attractions in the Malampuzha garden include the beautiful rock garden, the fish-shaped aquarium, the snake park, the ropeway which takes you on an aerial tour of the park, and the gigantic Yakshi sculptured by Kanai Kunhiraman, a renowned sculptor of Kerala.