The region of Kanyakumari is not only famous for its tourism but also for its food items. These are some of the mouthwatering and the lip smacking list of food items.
Banana Chips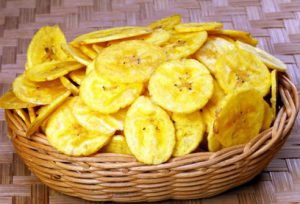 Made from under ripe bananas, the banana chips is a tasty snack to try when at Kanyakumari. The slices of bananas are put into the hot coconut oil and are fried. A light amount of salt or pepper is added to enhance the flavour of the snack. You will also get an opportunity of watching the chips being made afresh.
Kothu (Minced Parotta)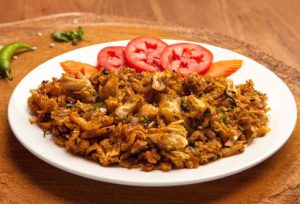 A popular delicacy of Tamil Nadu, the Kothu Parotta is a unique version of the plain old parotta. This dish is made using parotta, egg, meat and salna (a spicy sauce). These ingredients are thrown into a hot cast iron griddle and are minced by repeated hits with a heavy iron spatula, the sound of which can be heard from long distances. It is always served with Onion Raita.
Appam
A pancake made with fermented rice batter and Coconut milk, Appam is one of the must try items at Kanyakumari. The specialty of this is that it is fry cooked on one side while the other side is steamed. It is mostly had for breakfast or dinner.
Pazha Sarbath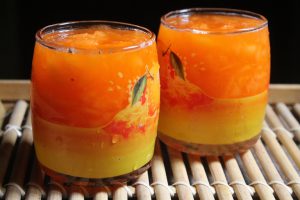 Best way to beat the summer heat, the Pazha Sarbath is easily available at the roadside shops at Kanyakumari. This sarbath or juice is made from a mixture of fruits like Banana, Apple, Pineapple, Grapes, Pomegranates and so on. These fruits are nicely minced and are mixed with ice as well as sarbath.
Aval (Beaten Rice)
Broken rice, also known as Aval (South India) or Poha (North India), makes up one of the famous items of Kanyakumari. Here the sweet version of aval is what you'll get. The Aval is sprinkled with some water and into it Coconut and Jaggery is added. This is basically a homemade dish.
Semiya (Vermicelli) Payasam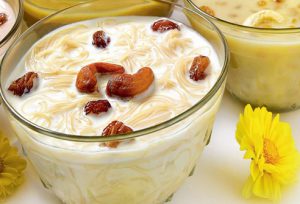 Basically served as a dessert after meals, the Semiya Payasam (Vermicelli Kheer) is a sweet dish made from Vermicelli. Sweet in taste it is specially served in most of the functions. This Payasam is very easy to make using Vermicelli, Milk, and Dry Fruits.
Pazha Bajji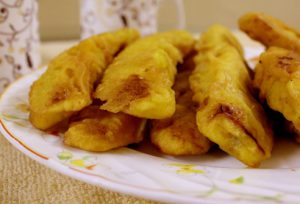 The yellow coloured cylindrical edibles are a common sight at any local tea stall in Kanyakumari. The ripe bananas are dipped into Maida batter, which is then put into hot oil and are fried until it is turned yellow. It is best to have this Bajji with a cup of tea.
Maravazhi Kilangu (Tapioca Cassava) with Fish
Tapioca is one of the most cultivated plants in Kanyakumari. During the season tapioca is in high demand and is available in the markets. For serving these tapiocas with be peeled, cut and boiled in water with salt. Traditional Fish Curry is the perfect combination with the boiled tapioca.
Nungu Sarbath (Palm Fruit Juice)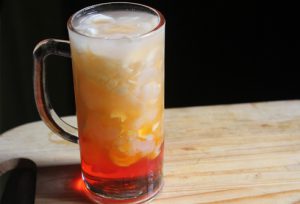 The Nungu Sarbath is a must try during the summers at Kanyakumari. This cool and refreshing drink is made from palm fruits mixed with Sarbath topped off with some chilling ice. This juice is good for your health as well as your body.
Jackfruit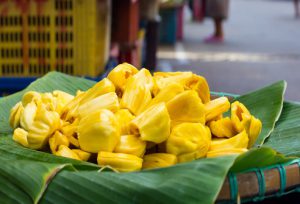 Many varieties of jackfruits are found in Kanyakumari. The colour of some of these fruits is red while some are yellow. Some are small while the others are large. These fruits can be had when ripe and also when raw. The jackfruit chips are one of the snack items that are made using unripe jackfruit and are enjoyed with tea.