Vaikom Mahadeva Temple
One of the important pilgrim centers of Kerala, the Vaikom Mahadeva Temple is located here at Vaikom. The 1 meter high Shiva Linga (Lord Shiva) is the main deity of this temple. Built in the Kerala style of architecture, the temple's Sanctum Sanctorum is surmounted by a golden Stupa and a golden staff measuring at about 19.5 meters dominates the surrounding landscape. According to the Legends, Khara, the man eating demon of Ramayanam, worshipped Lord Shiva at Chidambaram and got from him three Shivalingams. While journeying with this, Khara stopped at Vaikom and set down one of the Linga. Soon he realized that the Linga got rooted on the ground and hence he left it in the care of Vyagrapadar, from whom the place derived its name. This temple is famous for Prathal (midday meal offered by an individual to anybody) and the Annathanam (served by the temple).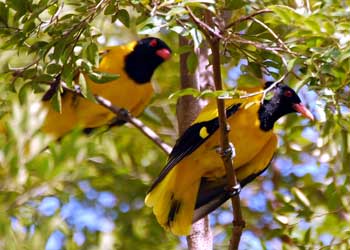 Kumarakom Bird Sanctuary
IAlso known as the Vembanad Bird Sanctuary, this Bird Sanctuary is set in the backwaters of Kerala. The Kumarakom Bird Sanctuary is a favorite haunt of the migratory birds. Formerly known as Baker's Estate, this bird sanctuary was developed in a rubber plantation by an Englishman. The Sanctuary is spread over an area of 14 acres. Here one can find varieties of local as well as migratory birds like the waterfowl, cuckoo, owl, heron, Siberian crane, parrot and many more. Some of the migratory birds come here from as far as the Himalayas and Siberia
Vembanad Lake
Vembanad Lake or Vembanad Kayal is the largest lake of Kerala and the longest in India. Flowing through 3 districts, it is known by different names like Punnamada Lake (Kuttanad) and Kochi Lake (Kochi). The famous Nehru Trophy Boat Race is organized in this part of the lake, during Onam (August/September). Boating on Vembanad is an enthralling experience and is best enjoyed in a houseboat.
Pathiramanal
Pathiramanal is a small island in Muhamma panchayat of Alappuzha district. The name means 'sands of night'. This small island is home to around 91 local species and 50 species of migratory birds like pintail ducks, large egrets, Indian pond heron, strok-billed kingfisher, gulls etc.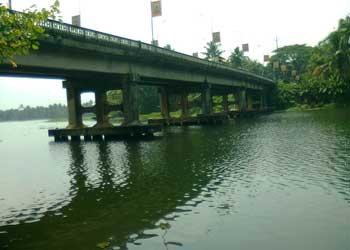 Murinjapuzha Bridge
The oldest bridge of Vaikom, the Murinjapuzha Bridge is one of the must see places. This bridge gives you a good view of the Vembanad Lake and also a branch of the Muvattupuzha. Also a small island called Pookaitha can be seen from here.