FORT KOCHI – A MELTING POT OF CULTURES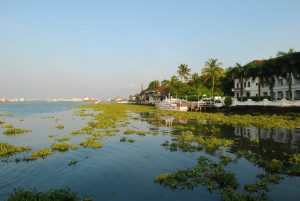 Fort kochi and its beach do not necessarily attract any special introduction either for foreign tourists or natives who want to achieve a relaxation. Fort Kochi is well-known for its history and cultural activities. It's a small town in Kerala. There are many sights that are behind its successful tourism. A safe place for all kinds of tourists, Fort Kochi and its neighbouring places with their enchanting appearance have helped to develop as one of the decently agreeable destinations of tourism in India. It attracts tourists of all sorts throughout the year.
The deep blue sea, soft sand, swaying coconut palms, delicious sea food and house boats make it a very popular and deeply loved spots for visitors. The gentle and nice breeze that blows from the tropical ocean has to be judged on its own merits. Whenever any visitor come to Fort Kochi, he can testify the rich heritage of centuries. The traders, explorers, holiday-makers, political representatives and voyagers who sailed from distant lands to reach the shores of Fort Kochi and stamped an impression upon the cultural & religious way of life in this region and that cannot be easily deleted.
It has many roadside stalls that sell hot coffee and tea and small refreshing snackstender coconut.

Season and climate
It's one of the serene beaches of southern India and the rainy season starts from the middle of May and continues till the end of September. The best time to visit this place is from October till the end of April.

Places of stay and food
There are many hygienic hotels and home stays where one can get tasty and delicious south Indian food along with the choice of food lovers. There are houses available on rent if taken a decision to continue their stay in Fort Kochi. A few palm-leaf thatched eateries to offer delicacies of sea food. The promoters of home stays and villas here are bound to retain the privileges and privacy of the tourists.

Arrival at Fort Kochi
Kochi has both international sea and airports along with a domestic airport. Travellers can hire private vehicles or embark on boats plying between Fort Kochi and mainland of Ernakulam which is about 15 kms away.
(adsbygoogle = window.adsbygoogle || []).push({});
(adsbygoogle = window.adsbygoogle || []).push({});