Fort Immanuel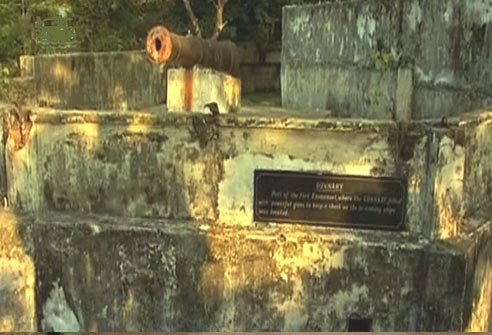 Moving forward along K J Herschel road and on a turn to the left, one can easily take notice of Fort Immanuel. This fort can speak the full story of political and military connections Raja of Kochi had with the King of Portugal. It was built in 1503 and it's mixture of Kerala and Portuguese architecture. It's a pure model of European planning and framework. It stood as a dumb witness to historical events as three major colonial powers made their mark in Fort Kochi.

Takur house and David Hall


The colonial culture is reflected through Takur house. It once served as a centre for community gathering for the members of the Dust East India Company. It was earlier called as Kunal or Hill Bungalow. It was built by Takur & Co. It now stands along Dutch cemetery road. Dutch East India Co., built David hall in 1695. It stands near the parade ground and it reflects the Dutch prominence and style of construction. Hendrik Adriaan Van Reed tot Drakeston was a famous Dutch commander who contributed credibly and reliably towards the publication of Hortus Malabaricus, an authoritative and exemplary work on the native plants of Kerala. He had good friendship with the people who were running David Hall.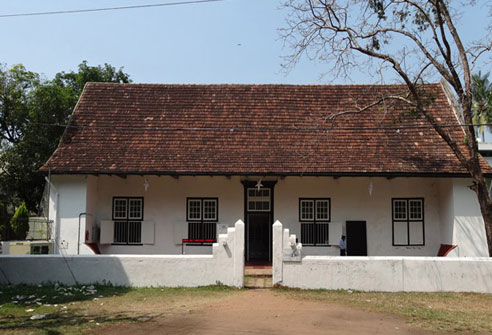 The British, the Dutch and the Portuguese held their military parades at parade ground. A four-acre sprawling ground which brings in fresh air in that locality.
The Britons liked Cochin Club and it's a good repository of books and trophies associated with sporting competitions.
Bastion bungalow was built in 1667 in an Indo-Dutch style of architecture.
Vasco da gama square is a wide path by the sea and the idle people can spend their leisurely time by looking at the Chinese fishing nets, especially when the sun goes down the horizon.
Peirce Leslie & Co., occupied Peirce Leslie bungalow and they were doing coffee business.
Old Harbour House was the place where Dutch sailors frequented when they were in Kochi. Carritt Moran and Company built this in 1808. The Dutch and Portuguese architecture were uniquely combined under the guidance of skilled workmanship. A good garden nicely blends with its arched entrance, red-tiled roof and the scenic waterfront.
Samuel S Koder who converted a Potuguese building into Koder house. He was the honorary consul to the Netherlands and promoter of Kochi Electric Co., The family came to Kochi from Iraq centuries ago. He was a member of the Jewish family. The Koder house has a ' hanging bridge'. It also has excellent wooden furniture and decorated floor for an engaging ambience.
Near the Princess street, the walkers could see the Loafer's corner and it's ideally meant for fun-loving people.

Santa Cruz Basilica


The Portuguese built Santa Cruz Basilica and consecrated into a cathedral by Pope Paul IV in 1558 and Pope John Paul II sanctified it as a basilica. The Raja of Kochi wanted to express his thankfulness to the Portuguese because they helped Raja to defeat Samoothiri of Kozhikode in a war. Full support was extended to Dom Francisco de Almeida, the first Portuguese viceroy to build a church in Fort Kochi. It's a majestic presentation of Indo-European and Gothic architecture. The Italian painter Brother Antonio Moscheni and his disciple De Gama contributed elegantly to beautify the interior with their works. ' The passion and death on the cross' on the altar of the Basilica and the painting of 'The Last Supper', frescos & murals on the life of Christ share the brilliance of their imagination and skill of the artists. The pulpit, bright blue pillars and lofty spires truly reflect resourceful workmanship of those gifted.
The curious travellers can pass near Burgher street, Delta study, an old building of 1808 and move towards Rose street.
Vasco house is believed to be residence of Vaso da Gama during the glory of yesteryears.
A large wooden gate facing the Parade ground and is known as VOC gate. The Dutch through The Dutch East India Company( Vereenigde Oost-Indische Compagnie) reached Kochi for trade and later on wanted to fix their authority here. They captured the control of the fort in 1663. It's almost in the vicinity of Ridsdale road. It had good affiliation with the Dutch East India Company and was built in 1740.
The British had four majestic clubs in Kochi, the embodiments of colonial sporting spirit that prevailed in Fort Kochi. The United Club is one of such centres.
Dom Jose Gomes Ferreira, the 27th Bishop of Diocese of Kochi, secured the possession of the Bishop's house and it had once been the home of the Governor of Portugal. It was built in 1506. It's located near the Parade ground and has been marvellously ornamented with a Gothic arch.
Kochi is one of the finest natural harbours in the world. INS Dronacharya, the prestigious institution of the Indian Navy has the Maritime museum at Fort Kochi. The centuries of maritime history is well illustrated by magnificent visual displays and objects. The evolution of the Indian Navy as a mighty force in the world is demonstrated in a grand manner. Our magnificent maritime past is brilliantly exhibited by means of murals and figurines. The story of Kunjali Marikkar, the then admiral of Samuthiri of Kozhikode, is perfectly presented and it could be drawn as an inspiration to our children and they should never miss an opportunity to have look at such a great tradition. How Kochi grew as a port city and the visit of Vasco da Gama are clearly explained.

Kochi-Muziris Biennale


It was made for the public in 2012. Aspinwal and other old buildings at Fort Kochi woke up for the festival of Kochi-Muziris Biennale. Performing arts, art works, paintings & sculptures, videos & photographs, seminars, music shows and other cultural programmes profusely modified our perception of a cultural extravaganza. Mattancherry and Fort Kochi localities really witnessed the artistic calibre of performing groups from different parts of world and it was a spellbinding accomplishment. It has been decided to hold such an event once in two years.

Indo-Portuguese Museum

The beautiful Bishop's house became the venue for Indo-Portuguese museum. The place is near the Parade ground in Fort Kochi. The statues and coins were once the possessions of the Portuguese, are now noticeably put on. All necessary care has been taken to safe-keep and preserve the priceless heritage. Numerous classic works are shown and those items truly deserve a place, especially in a divine atmosphere. A piece of altar made in teak wood which was brought from the Church of Our Lady of Hope at Vypeen is also kept there. Several articles which signify association with holiness are also exhibited there. It's open to visitors from 10 a.m. to 5 p.m. on all days except Monday.

A Walkway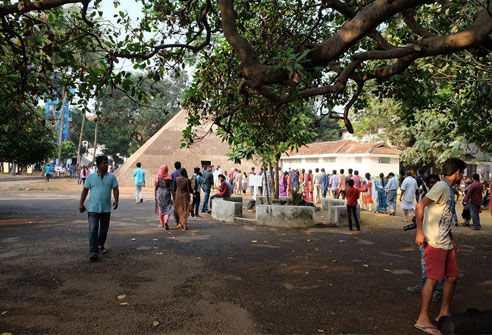 All walkers can tirelessly walk along the granite path which is located between the Fort Kochi beach and Vasco da Gama square. There one can see these walkers are lucky enough to have fried fish offered by the stall-keepers. The interesting fact is that these fishes are not iced ones, but live fishes are taken out of water and cooked them in a readymade fashion to retain flavour of sea fish. There you can see a few country and mechanized boats making their home-coming after their tossing on the mid-sea. Chinese fishing nets stand on their tradition and glamour. Mahatma Gandhi beach way routes an everlasting track along the water front. A few ocean-going ships steering to and from the Kochi port. Neighbourly stall-keepers and roadside vendors make jovial and happy atmosphere.

Shopping area


It was in 1524 Jews reached shores of Fort Kochi as refugees and the Raja of Kochi took pity on them and granted the quarter close to the royal palace. It's the present day Jew town. Travellers here can come across many shops which sell artefacts, handicrafts and ethnic jewellery. In addition to these, antique furniture, old handicrafts, crockery, traditional lamps and jewellery, vintage photographs & paintings and similar objects can be easily selected. The spice and tea trade which once flourished here lured the foreigners which changed the whole scenario later.

Clock Tower


Mattancherry has an old clock tower. Ezekiel Rehabi, a famous business man instituted this clock tower in 1760. It has four faces and digits written in Malayalam, Hebrew and Latin languages. It was functioning till 1930 and is about 45 feet long.

St. Francis Church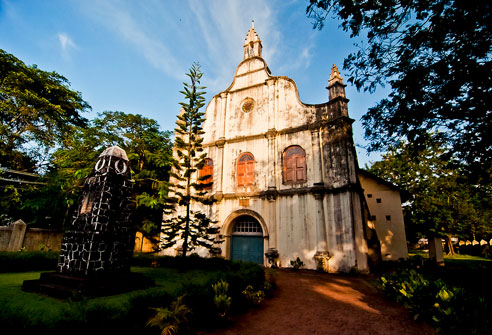 St. Francis CSI church was built in 1503. Vasco da Gama who discovered a sea-route from Europe to India landed at Kozhikode in 1498. St. Francis church is one of the oldest church built by Europeans in India and it is really unforgettable for its architectural marvel and distinguished ambience. The administration of the church was taken over by the Church of South India in 1949. Vasco da Gama died here in 1524 on his third visit to Kochi and was laid to rest within the precincts of this church. His mortal remains were later taken to Lisbon in Portugal.
Jewish Synagogue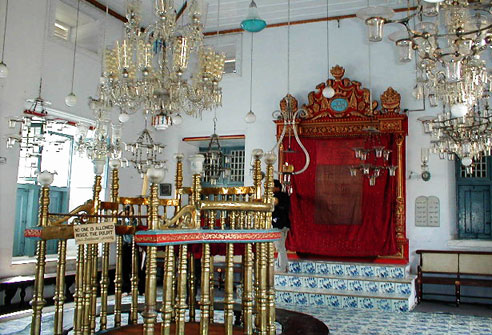 It's a proud moment to think that there lived a prosperous Jewish community in and around Fort Kochi. They make an assembly for their regular prayers at a synagogue. Its position is on a gentle ascent from Jew town. The landscape is most exquisite and decorated richly for a colourful exposition. It has many valuable and beautiful objects to savour the bygone times. The Jewish community of Kochi who bear the credit of having developed the same over a long time. It is a great achievement for those who constructed it, especially on a foreign land. It was built around 1560 AD.
The incoming light is reflected by the chandeliers and other lamps and it increases the magnificence and charm and brings in a good order of happiness. These artefacts go along with splendid and costly possessions and were imported from Belgium. The synagogue is adorned with a few priceless treasurers and most of us are unaware of the existence of such remarkable surprises there. The decorative design in respect of blue tiles and the particular disposition of forms and colours along with their parallel repetition of patterns reveal a genuine architectural marvel of those days. They were either brought from China or other European countries by Ezekiel Rahabi in 18th century. A clear artistic perception is unavoidable to absorb the interlacing features into whole fabric. The casting and alignment of pieces were done in an admirably eloquent manner. The copper plates dating back to 10th century AD, gold crowns, a pulpit with brass rails and the Scrolls of the Law are the material enrichments. The Ethiopian emperor, Haile Selassie presented an oriental rug as his gift which is even judged as the most favourite treasure.
We speak Malayalam when you make your landing at Kochi. Malayalam is one of the classical languages of India. You can see the romantic city of Kochi in the central part of Kerala state. It has a sophisticated transport system and a residential status regarding the population which is not less than ten lacs. Recorded as "Queen of Arabian sea", Kochi has an ancient socio-cultural tradition.
You can proceed to boat jetty at Ernakulam and embark on a boat to Fort Kochi. We have the facility of bus & taxi services for the sightseers and travellers, but a boat-ride is considered as the easiest option to locate at to cover a distance of 15 kms. mechanised boats making their home-coming after their tossing on mid-sea. Chinese fishing nets project their glamorous presence when fisher folks struggle in terms of their livelihood. Mahatma Gandhi beach way routes an everlasting track along the waterfront. A few ocean-going ships steering towards Kochi port. Neighbourly and chummy stall-keepers and roadside vendors compose a jovial and entertaining atmosphere. The true charm and fascination lie with Fort Immanuel. It has a history and pure model of European planning and framework. It wisely relates memoirs of a classic period and beacons the cultural colours of identity.
An annual merrymaking suitably termed as " carnival' is celebrated and rejoiced on eves of new years at Fort Kochi and the people make their gathering for a delightful goodbye.
Diverse hotels, small restaurants and eateries provide tasty cuisines for food lovers. If you think 'fish is a must' and rush to the spot, it never disappoints you. You get roasted, fried, toasted or barbecued fish at your convenience. Angling, slow-pacing along the white sand, sun-bathing, swimming and boat-riding are the picnic-activities readily chosen. When the breeze from the Vembanad backwaters sways the coconut palms, it would be very relaxing for the walkers in the evening hours and at dusk also.
It's a merriment to pass along Rose street, Princess street, Tower road, Burger street etc. Jew street has a distinct identity and it is undoubtedly marked to tell the days of flourishing trade. Jew street, Palace road, Mattancherry road are all well-connected and a chosen few could direct their way to TD school nearby.

Chinese fishing nets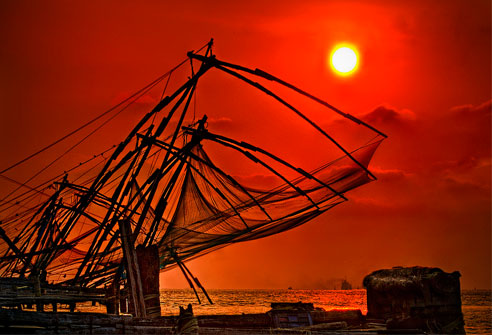 Chinese traders might have brought Chinese fishing nets during the 14th century. Fishermen in Kochi area nowadays employ it for fishing in the backwaters and sea as well. You may be curious to know what is the speciality of nets and its working. A device consisting of wooden poles and nets are worked out manually to catch the fish. A mere explanation of its integration cannot reveal the process, but witnessing such an act could disclose the skill of our fishermen. In simple terms, it's like a see-saw mechanism with wooden poles, a fishing net and a suspended weight. When the weight is raised, the net is automatically get dipped in water and allowed to be there for a short duration. When convinced of a harvest, the said 'weight' at the rear end is lowered and in a regulated manner the net is lifted to trail the harvest. The process is repeated suitably and regularly. If a boat-cruise is made between the places of Vypeen and Fort kochi, one can easily appreciate the extent of such an exercise.
You must also make an enquiry in respect of Goshree bridge which sprawls across the backwaters, linking separated islands of Mulavukadu, Vallarpadam and Vypeen.
The rainy season extends from June to October months and we have to wait till March for summer to set in.