"If China is where you make your money, then Cochin is surely the place to spend it."
When Nicolas Conti, the legendary Italian traveller said this, Cochin was flourishing in trade as one of the most desirable destinations approachable by sea. And Fort Cochin, once an obscure fishing hamlet, found itself at the hub of all this bustling activity. It was soon to be the first European township in trade and one of the most glorious cities in the world.
Fort Cochin probably has the best preserved history of colonial times and the ideal way to see it come alive is to take a stroll down its old roads, with their tree-lined avenues and along the seashore – where magnificent Chinese fishing nets sketch a spectacular skyline. It is believed that Chinese travellers during the reign of Kublai Khan had introduced these nets to Cochin.
In AD 1341, a cataclysmic flood threw open the estuary at Cochin. Thanks to the strange ways of nature, out of this land-locked area was born one of the finest natural harbours of the east. This in turn paved the way for a deluge of seafaring visitors, from the Arabs to the Chinese and later, the Portuguese, Dutch and British. The last three have left their imprint on the façade of Fort Cochin to a greater extent.
The Portuguese
Fort Cochin will transport you to the last years of the 15th century, when the adventurous Vasco Da Gama and the valiant Cabral were lured by the fabulous riches of the Malabar Coast and established flourishing trade relations.
In 1553, with the permission of Maharaja of Cochin, Fort Immanuel , the first European Fort in India was constructed here. Within its vast confines, the Portuguese built houses, churches and other buildings while generously contributing to the indigenous cultural fabric, the essence of which still endures.
The Dutch
The Dutch influence too is profound; they laid out most of the town in its present form. In doing this, they cut down the Fort to about a third of its original extent, when they wrested it from the Portuguese in AD 1663.
During the Dutch era, Fort Cochin climbed the heights of fame as a rich commercial centre, major military base, an illustrious cultural hub, a noted ship building yard and an age old centre of Christianity.
The British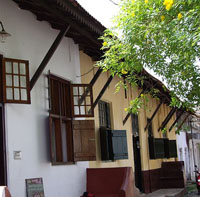 The last colonial regime seen at Fort Cochin was that of the British, who took over the town in 1795. After those glorious years it was then relegated to the role of an administrative outpost. Yet the spices and tea trade kept it in the limelight. In many of the bungalows here you will notice evidence of a distinct strain of Indo-European architecture that matured mostly in this period