For ages, Keralites have cherished a reverential attitude toward rivers. When the weather becomes delightfully pleasant and nature exults in her full glory, it is the apt time for Keralites to hold the Jalotsavam (water - carnivals). The boat race is in a way a display of the physical might of the people who forget their differences in partaking in this sport. In that respect, the boat race is symbolic of the Jalotsavams in Kerala. The most famous is the Aranmula Snake Boat Race conducted on the Uthrittathi day of Chingom (August-September).
T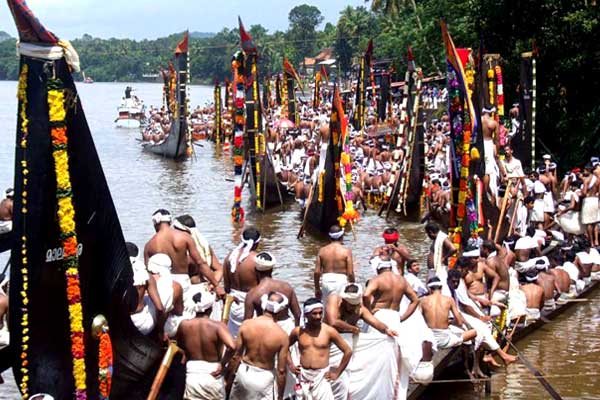 he famous snake boat carnival on the Pampa held annually at Aranmula on the day of Uthrittathi asterism in connection with the Onam festival is to commemorate the crossing of the river by Lord Krishna on that day. The deity is supposed to be in all the boats that take part in the carnival and all of them are expected to arrive at their destination simultaneously. There is thus no element of competition in the Aranmula Boat Race as in other regattas held in this district and elsewhere. The race is not conducted to win any trophy or prize. The crew regard the occasion as one for rejoicing and merry-making and cheerfully row up and down the river to the tune of songs. Even though the festival is of Hindu origin and is associated with the Parthasarathy Temple, it is an all-community affair and participants include members of all classes and communities living in and around Aranmula.
The festival is now being organized under the auspices of the Palli Oda Seva Sangham, a popular organization of the boat owners. It constitutes a national festival for the people of Central Travancore and special boats and buses ply to carry the people to witness the event. During the races, the banks of the river on either side would be thronged with millions of spectators. In recent years, the festival attracts spectators from all parts of the country and even from abroad. The Valla sadhya is an important vazhipadu (offering) in the temple on this occasion. The snake boats at the Aranmula regatta present an enchanting as well as imposing spectacle. They are of an extraordinary shape. About 100 ft. long, the end of the boat is curving upwards with the front portion tapering gradually. The rear portion would be towering to a height of about 20 feet. The boats resemble snakes with their hoods raised. A 150 - crew including oarsmen, singers and rudder man each boat which is gaily decorated for the occasion. The occupants carry banners and ornamental umbrellas of silk and gold. It is doubtful whether there is any other national festival resplendent with such an aura of spiritual devotion, endearing friendship, sportsman spirit, majesty and rapturous delight as the Aranmula boat race. Similar Snake-boat races are organized at Champakkulam and Paippadu in Kuttanad, the rice bowl of Kerala, during the Onam days.