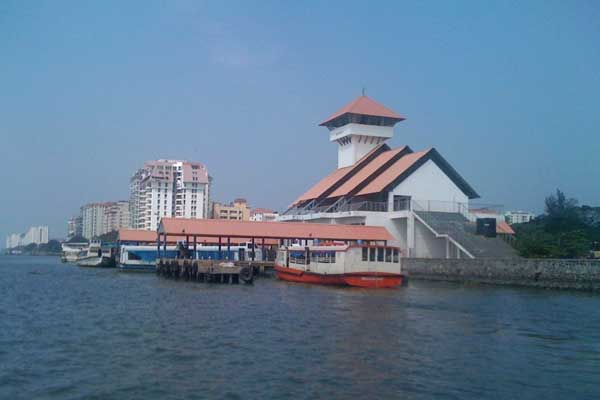 Ernakulam district is noted for its quick-paced growth and development and for housing several industries, shopping malls, cinema complexes, amusement parks and so on, giving it the apt title as commercial capital of Kerala. The capital Kochi is a busy hub and the Eden for fashion enthusiasts. It is the prime IT destination in the state, that is home to numerous established and developing techno industries. Being a natural harbor and a seaport, it is also the center for naval and maritime activities.
Kochi - Cochin is famous for its marine drive which has been developed as a full-fledged tourist attraction. The lively GCDA Commercial Complex along the waterfront features a kaleidoscope of several business establishments and other institutions, fast food joints and cafes, and a variety of shops selling anything from perfumes to high-capacity refrigerators. A stroll in the evening along the walkway is a favorite pastime of city dwellers.
From time immemorial, Arabs, Chinese, Dutch, British and Portuguese seafarers followed the sea route to Kochi and left their impressions on the town. The Chinese fishing nets swaying in the breeze over the backwaters, the Jewish Synagogue, the Dutch Palace, the Bolghatty Palace, Jew town and Portuguese architecture in the island town enrich the heritage of Kerala.
Fort Kochi - located off the shores of Kochi - Cochin city is a jewel in the crown of Kerala with its European heritage and true cosmopolitan temperament. A leisurely walk through its streets is one of the best ways to discover all that this ancient town has to offer. A municipal town from 1866 to 1967, Fort Kochi now is one of the three main urban components that constitute the present day city of Kochi - Cochin, the other two being Mattancherry and Ernakulam.
Other attractions are the palm-fringed Bolghatty island housing the Dutch-model Palace; the dolphin-dotted Cherai beach ideal for swimming and surfing; Chennamangalam, an ancient place of religious harmony; the hammock-like Chinese fishing nets; Mangalavanam bird sanctuary housing numerous varieties of the avian species;Willingdon and Vypeen islands reflective of the peaceful settings of Kerala village life;Hill Palace housing relics of the erstwhile rajas of Kochi; the Jewish or Paradesi Synagogue; Chottanikkara Devi temple; Koonan Curishu shrine; Dutch cemetery and Kerala History Museum.
Discover The Queen of the Arabian Sea…
Accommodation at Ernakulam