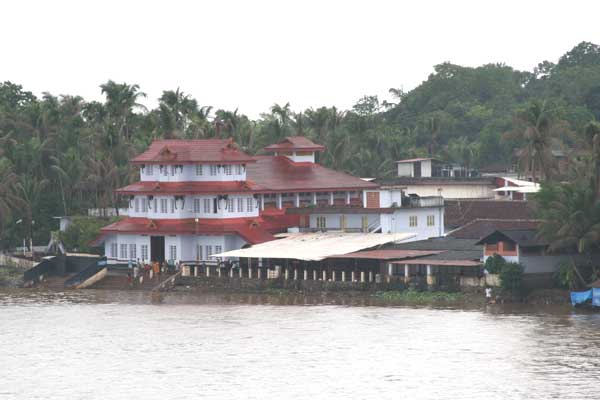 The district of Kannur is the land of myths, legends, and folklore that is audio-visually manifested in its rich and colorful folk arts like Theyyam and Thira which are performed during local festivals. The centrally commissioned state-of-the-art Indian naval academy set up at Ezhimala for administration and training activities is a major landmark in the district.
Parassinikadavu Muthappan Temple or Parassini Madappura Sree Muthappan Temple, which lies on the banks of the Valapattanam River, attracts people from all sections of the society; irrespective of religion or caste to the district of Kannur.
Kannur - Canannore lies towards the north of Kozhikode and Wayanad districts. The famous dazzling public ritual performance of Theyyam draws huge crowds of spectators. The land is a lively mélange of beautiful beaches, historic sites, interesting folk arts and folk music, rituals, religious practices, and festivities. The district is also home to some of the traditional industrial sectors of Kerala. The region played a significant role in the freedom struggle against the British.
Kannur - Canannore was once an important port on the Arabian Sea and carried out the trade with Persia and Arabia in the twelfth and thirteenth centuries. During British rule, Kannur was known by its anglicized name of Cannanore, which is still in fairly common usage.
There are several tourist attractions of historical significance in and around the district. Arakkal Kettu, located about three km from the town, was the residence of the former Arakkal Ali Rajas, the only Muslim royal family of Kerala. The fort which is now under the Archaeological Survey of India offers fascinating views of the Mappila bay fishing harbor.
Thalasseri Fort, located some 22 km from Kannur - Canannore, was constructed in 1708 and was the military center of the British. It is now a historical monument. An old Muslim mosque, the Jagannatha temple, and Thiruvangad Sree Ramaswamy temple are other attractions nearby.
Madayi Para, situated twenty-five km from Kannur, is yet another travel destination. The Madayi Kavu temple, the Vadukunnu temple and the 12th-century mosque built by Malik bin Dinar with white marble imported from Arabia, are the major attractions here. There is also a dilapidated fort at Madayi which is supposed to have been built by Tipu Sultan of Mysore. The surrounding view from the fort is fascinating.
Discover the Land of Myth and Folklore…
Accommodation at Kannur