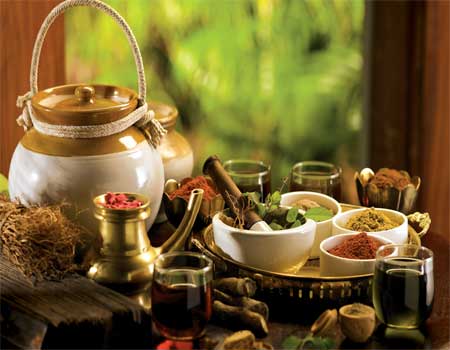 Ayurveda is the ancient system of natural and holistic healing that originated in India some 5000 years ago. It's the science of life, health and longevity and the oldest form of medicine in the world. This unique form of medicine follows the principle of not merely treating ailments of the affected body parts but recharging the mind and invigorating the spirit as well. This holistic science is based on the wisdom of the ancient art of good living.
Ayurveda lists 10 contradictory pairs of qualities found in all types of foodstuffs that directly or indirectly influence and impact our health. They are heavy & light; fast acting & slow acting; hot & cold; moist & dry; rough & smooth; hard & soft; viscous & clean; gross & subtle; sticky & non-sticky; mobile & stable. This traditional system of medicine incorporates other related disciplines such as yoga, meditation, natural diet, breath exercises, gem therapy, astrology etc.
Ayurveda is practiced in its most pristine form in Kerala, the only state that has the maximum resources in the subject, in the form of age-old documents on cures and treatment methods as well as natural resources consisting of an array of herbs and medicinal plants used as ingredients for the preparations. This complete naturalistic system diagnoses diseases based on the body humor and the mode of treatment is aimed at striking the right balance between them.
Kerala's equable climate, natural abundance of forests and the cool monsoon season render it suitable for Ayurveda's curative and restorative packages. An assortment of Ayurveda health and wellness packages of varied duration can be availed throughout the tourist destinations of the state. Treatment methods comprise Uzhichil, Pizhichil, Shirovasti, Nasyam, Dhara, Abhayangam etc that are spread over a period varying between 2 to 6 weeks. Elaborate oil massages are a highlight. Medicines to be ingested include a variety of kashayams or herbal decoctions, lehyams or medicated ghees, arishtams or fermented preparations, churnams or medicinal powders and more.
It has become a unique and indispensable branch of medicine today, with manifold specialties focused on long-term cures and elaborate treatment methods for specific body parts. Kerala boasts of numerous well-established ayurvedic centers and hospitals with excellent facilities and a faculty of qualified, experienced and dedicated ayurvedic medical practitioners who cater to the different needs of the patients. These packages have become a rage with travelers to the state.
The naturally green and serene locations of Kerala, the equable climate and the host of efficient and friendly services rendered by the tour operators make the state an ideal choice for undergoing replenishing healthcare packages that are tailor-made to suit the interests and convenience of the visitors.
Welcome to explore the wonders of natural medicine at ayurvedam.com