Destination - Vagamon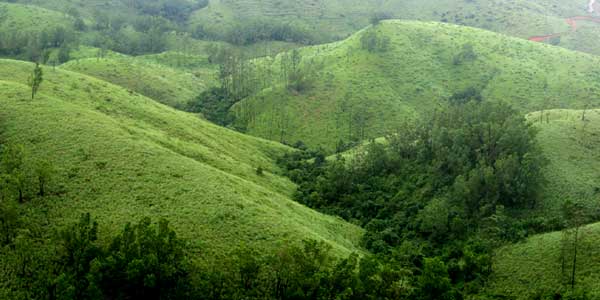 This picturesque beauty spot in god's own country known for its cool and pleasant weather throughout the year and situated at a distance of about 60 km from Kottayam, is a delightful hill destination perched at a height of 3500 ft above sea level. This hill town is also popular as a place signifying religious harmony. Besides, Vagamon has numerous attractive tourist spots surrounding it that make for ideal picnic getaways.
Vagamon is dotted with green estates and beautiful meadows wafting with the smell of refreshing mountain air. The grass-covered hills, velvet lawns, dales, and puzzling valleys and the cool wind make Vagamon a perfect holiday retreat. The place blessed with the bounties of nature has also gained popularity as an eco-tourist destination.
A curious blend of religious mysticism and European legacies, this pristine hillside village is a haven of equanimity. The chain of three hills - Thangal Hill, Murugan Hill, and Kurisumala - forms a mark of religious harmony. The dairy farm managed by the Kurisumala monks is worth a visit. The breeding center of the Kerala Live Stock Board is also located here.
Vagamon has become the chosen destination for trekkers and adventure enthusiasts. The hill station has developed into a prime paragliding hub and is the venue of international paragliding contests that are conducted here every year. Paragliding experts from different parts of the country and abroad arrive at the hills to participate in the exciting feat of flying in mid-air, soaring like a bird and experiencing the vibrancy of nature at its purest all around.
Vagamon is today one of the hottest destinations in the country for hosting and facilitating one of the coolest adventure sports. Paragliding is a recreational and competitive flying sport practiced worldwide and owing to which Vagamon has found a place on the world tourism map.
Highlights: mist-clad hilltops – green gardens & meadows – verdant landscape - cool fresh breeze - trekker's paradise – paragliding hub – the center of religious harmony – ecotourism destination
Tourist spots: Elaveezhaappoonchira, a picturesque hillock – Kuttikanam summer palace – Kurisumala ashram with prayer hall and dairy farms – Murinjupuzha waterfall - forest shrine of Mangaladevi – Parunthupara, a trekker's paradise – Thangalpara with the cave tunnel
For Accommodation - Hotels / Resorts / Homestays at Vagamon
For more details about Vagamon, Kerala, India, visit our exclusive portal - www.vagamon.com