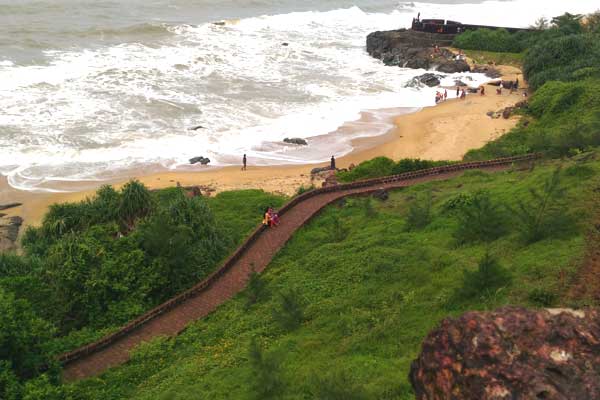 Kasaragod is a district that's noted for its cultural monuments that include ancient forts and other heritage sites coming under the Archaeology department. The historically famous Bekal Fort is a favorite haunt of tourists and travelers to this ancient town. The district situated in the northernmost part of Kerala is also known for its pilgrim centers belonging to different faiths, forests and wildlife parks.
Kasaragod has enchanting beauty and is a land of historical importance. Because the district is home to the most fascinating forts, rivers, hills, beaches, temple deities, and mangrove shrines, Kasaragod is also known as the land of gods. The fort at Bekal is the largest and best-preserved fort in the state. The district is world renowned for its coir and handloom industries. Fishing is a prime source of livelihood.
The district is surrounded by Kannur district in the south, Mangalore in the north, the Western Ghats in the west and Arabain Sea in the east. Like other districts of Kerala, Kasaragod district too has a high literacy rate, around 85.17%.
The culture of this district is highly influenced by the socio-cultural aspects of its neighboring states. The Malayalam spoken here has influences from Tulu, Kannada Urdu, Konkani etc.
Regarding its history, this coastal district was an important trade center for Arab travelers who visited Kerala between 9th and 14th centuries A.D. Kasargod once formed part of Bekal taluk in the South Canara district of Bombay presidency.
There are some famous ancient temples of social and historical significance in the district. Some of them conduct unique rituals and are known for celebrating various religious festivals. Their imposing architecture and decorations in the form of wooden carvings, frescoes and murals, and their scenic location are attractive features that draw crowds of visitors to Kasaragod.
Nileshwaram, the cultural center of this district was once the seat of Nileshwaram Rajas who were the patrons of art and culture for centuries. Valiyaparamba is a much-favored backwater resort that offers enchanting boat cruises. Ranipuram offers exciting trekking trails. Chandragiri fort, situated along a river by the same name, is a vantage point to watch the sunset. More such picnic spots abound in the district.

Discover The Land of Forts...
Accommodation at Kasargod