Destination - Athirapally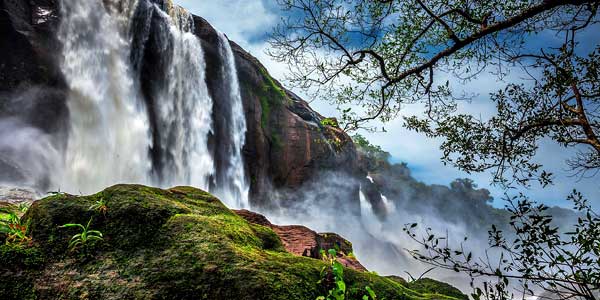 Athirapally in Trichur district is the land of rivers, forests, and great waterfalls. The destination houses the largest waterfall in Kerala, Athirapally waterfall, which is a major tourist attraction. This patch in the Western Ghats so beautifully intertwined with lush green forest cover and sizzling silver cascades is a treat for the eyes during the monsoon. The picturesque Vazhachal waterfall, just 5 km away from the former, is another attraction nearby, also located amidst the dense green forest cover, forming part of the Chalakkudy river. The Chalakkudy river in full spate, the mini Charpa falls along with the majestic Athirapally and Vazhachal waterfalls are ideal places where the monsoon can be enjoyed at its best.
The picturesque and majestic Athirapally waterfalls are located 78 km from Kochi, at the entrance of the Sholayar ranges. The Athirapally falls to join the Chalakkudy river after plummeting down 80 ft, the surrounding cool spray covering a large area of the dense green jungle, making it a pleasant and relaxing picnic spot for tourists and visitors. Combined with the sight of fresh greenery, the smell of dew and wildflowers, and the sounds of the silvery cascades, the whereabouts afford the onlooker one of the most enchanting and bewitching experiences of nature.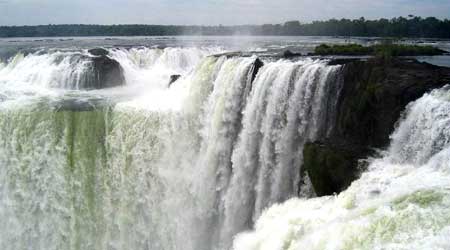 Both these areas are high elephant density habitats and excellent adventure destinations for treks, family safaris and for following unexplored nature trails. Athirapally and Vazhachal are accessible by motorable roads from Kochi, Aluva, Chalakkudy or Trichur.
Local communities along the Chalakkudy river banded together to stop the construction of a hydroelectric dam upstream from Athirapally waterfall. The proposed dam would have submerged more than 140 hectares of forest, dried up extensive riparian areas downstream and destroyed the beauty of the Athirapally waterfall, a prime attraction contributing significantly to the local tourism industry. Construction of the dam would have eliminated the critical habitat of many rare, important and endangered species of fauna such as the Forest Cane Turtle and the Great Indian Hornbill.
Highlights: land of rivers, forests&waterfalls – gateway to the rainforests - clean, unpolluted surroundings – silvery cascades set amidst picturesque landscape – cool and pleasant ambiance – riparian vegetation – diversity of marine life
Tourist spots: the majestic Athirapally & Vazhachal falls – the lesser Charpa falls - Vazhachal Forest Garden – Peringalkuthu and Sholayar dams – Thumpurmuzhi Garden – Malakapara Tea Garden – water theme park – Anakkayam lake
For Accommodation - Hotels / Resorts / Homestays at Athirappally
For more details about Athirappally, Kerala, India, visit our exclusive portal - www.athirappally.com