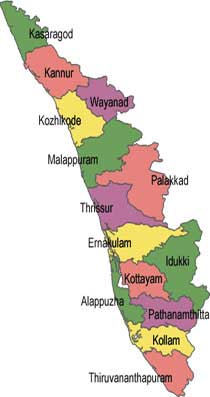 Area : 38,863 sq.km / 15,005 sq. miles
Population : 318.38 lakhs(2001Census) (3.34 % of total population of India)
Land Mass : 1.18 % area of total land.
Capital :Trivandrum
Language : Malayalam
Literacy : 100% (app)
Climate : Tropical
Clothing : Light cottons
Geographical Position : The land lies between 80 18' North Latitude and between 740 52' and 770 24' East Longitude.
Border : East: Western Ghat Mountains, west:: Arabian Sea, South: Tamil Nadu and North: Karnataka
Rivers : : 44
Longest River - Bharathapuzha (251.1 Km)
Highest Mountain - Anamudi (2652.3 Metres)
Climate - Summer - 35 to 22.5 degrees C Winter - 32 to 20 degrees.
History: Kerala had become a Linguistically distinct region in the 14th century
First Recorded Kingdom: Empire Chera Ruled Kerala from Vanchi.
Between 8th and 14th century -Malayalam is developed as a language under Chera Empire-II.
Kerala was first mentioned in the Sanskrit epic Aitareya Aranyaka.
Early Trading centers: Evidence shown Arabs from the 8th century, Portuguese in 1498, The Dutch and Britishers from 16th and 17th centuries establish trade centers with Kerala. Cranganore, Quilon, Alleppey, Cannanore, and Cochin are major ports used for trading.
Time
: GMT +5.30
Currency
: Indian Rupee
No.of Districts
: 14
Taluks
: 63
Revenue Villages
: 1452
City Corporations
: 5
Grama Panchayat
: 991
Block Panchayat
: 152
District Panchayat
:14
Sex Ratio
:1058 women for 1000 men
Infant Mortality Rate
:14
Birth Rate
:18
Death Rate
:6.4
Literacy Rate
:90.92 percent
Total No.of Schools
:12318
Higher Education Universities
:7
Arts & Science colleges
:186
Political particulars
MLA's: 141
MP's : (Loksabha: 20, Rajyasabha: 9)
Special Features :
1.First literate state of India
2.The first state to implement land reform bills and education reform bills
3.Lower birth rate
4.Least infant mortality
5.The state with a maximum life expectancy
6.The only state with the facilities of hospitals in every village
7.Excellent communication infrastructure.
8.One among the states where Air, Water, and Road are used as the media for transportation.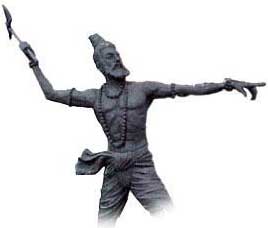 The mythological story about Kerala was a land rose from the sea where the ax- landed thrown in penance for waging the terrible war by Parasuram, the 6th incarnation of Lord Vishnu, who massacre the evil kings 21 times over to repeal their force from earth.
In written records, Kerala was first mentioned in the Sanskrit epic Aitareya Aranyaka The 10th century BC, speakers of north-western India belong to the Tamil language, show the evidence that ancient Kerala and Tamil Nadu was part of Tamilakam and also once shared a common language, tradition, and culture. By the early 14th century, Kerala had become a linguistically independent region.
The first ever ruler of Kerala recorded was the king Chera, ruled from Vanchi. A Keralite got identity when they distinct from the Tamils and associated with the second Chera empire and the development of Malayalam as their language during the 14th century.
The Chera kings' dependence on trade meant that merchants from West Asia established coastal posts and settlements in Kerala. A fresh wave of trading history started with the Europeans: Conflicts between the cities of Kozhikode (Calicut) and Kochi (Cochin) allowed the Dutch to oust the Portuguese. Meanwhile, Mysore's Hyder Ali conquered northern Kerala, capturing Kozhikode in 1766. In the late 18th century, Tipu Sultan-Ali's son and successor-launched campaigns against the expanding British East India Company but ultimately he surrendered to British in the 1790s. From then the British traders had become the strongest power in India at that time. In all this period of prosperity and strife, the region's identity existed as the Malabar Coast and Cochin Travancore. It was in 1949 that the three territories were integrated and in 1956 that it gained recognition as an independent state, Kerala.
Kerala also was known as celestial land [God's own country] for its natural beauty and from centuries also known as planter plantations lies on the coast of southwestern India. Kerala has an area of 38,862 Km and divided into 14 major districts, which have got its unique culture and traditions. Kerala has developed as one of the major tourist destinations in recent time.
Geography
Kerala is located on the southwestern tip of India with the Arabian Sea on the west and the Western Ghats towering 500-2700m on the east. The State is divided into three regions - the coastal lowlands, the fertile midlands, and the highlands. The lowland of Kerala is a coastal belt relatively flat and are networked by endless backwaters and the deltas of forty-four rivers. The Midland is made up of undulating hills and valleys. This area is rich with cashew, coconut, areca nut, tapioca, banana, rice, ginger, pepper, sugarcane and vegetable plantations. The forested high lands slope down from western ghats which rise to an average height of 900 meters with a number of peaks over 1500 meter in height. This is an area abound in tea, coffee, rubber and spice plantations, and wildlife reserves.
Geographically Kerala has divided into three major tourist regions such as 1] Northern region 2] central region 3] southern region. Malabar (northern Kerala), Kochi (central Kerala), and Travancore (southern Kerala). The north region known as Malabar consist of : (Kasargod, Kannur, Wayanad, Kozhikode, Malappuram, Palakkad). The center region is known as Kochi consist of : (Thrissur, Ernakulam). The Southern region Travancore: consist of (Idukki, Alappuzha, Kottayam, Pathanamthitta, Kollam, Thiruvananthapuram)
Climate :
Kerala, which lies in the tropics, is mostly subject to the type of humid tropical wet climate experienced by most of Earth's rainforests. Meanwhile, its extreme eastern fringes experience a drier tropical wet and dry climate. Kerala receives an average annual rainfall of 3107 mm - some 7,030 crore m3 of water. This compares to the all-India average is 1,197 mm. Parts of Kerala's lowlands may average only 1250 mm annually while the cool mountainous eastern highlands of Idukki district - comprising Kerala's wettest region - receive in excess of 5,000 mm of orographic precipitation (4,200 crores of which are available for human use) annually. Kerala's rains are mostly the result of seasonal monsoons. As a result, Kerala averages some 120-140 rainy days per year. In summers, most of Kerala is prone to gale-force winds, storm surges, and torrential downpours accompanying dangerous cyclones coming in off the Indian Ocean. Kerala's average maximum daily temperature is around 36.7 °C; the minimum is 19.8 °C.