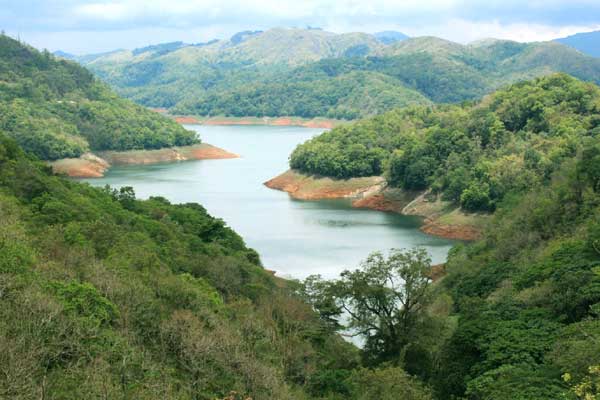 The mountainous district of Idukki forms the gateway to the high ranges in the state. Idukki abounds in a variety of plantation crops such as tea, coffee, and spices. The mist-clad beauty of the hills overlooking emerald valleys below beckons tourists and vacationers to the place. That Idukki has been richly blessed by mother nature is evident from its landscape dotted with numerous brooks, trees, streams, and waterfalls.
Kerala's history is closely linked with its commerce, which in turn was wholly dependent until recent times on its spice trade. Kerala was known for its spices and travelers from around the globe journeyed here to trade and to gain control over this rich land. The spice trade is said to date back to three thousand years. The state has a rich harvest of pepper, cardamom, clove, cinnamon, nutmeg, mace, ginger, and turmeric. Kerala takes pride in being the spice capital of the world.
Periyar forest reserve of Thekkady in the district is well known as a wildlife sanctuary housing a variety of flora and fauna and is situated on the banks of Periyar Lake. The jungle destination is located on the high ranges of the Western Ghats and is covered by dense evergreen forests and grassland. The Periyar wildlife sanctuary offers opportunities for explorers to spot herds of elephants, sambars, tigers, gaurs, lion-tailed macaques & Nilgiri langurs in their natural habitat.
The internationally famous hill destination of Munnar is situated at the confluence of three mountain streams - Mudrapuzha, Nallathanni and Kundala, 1600 m above sea level. This picture-perfect hill station was once the summer resort of the erstwhile British Government in South India. Sprawling tea plantations, quaint little villages, winding lanes, and holiday entertainment facilities make this a popular resort town. Among the exotic flora found in the forests and grasslands here is the Neelakurinji, a flower that bathes the hills in blue every twelve years. Among the rare fauna found on the high hill slopes here is the Nilgiri Tahr. The tallest peak in south India, Anaimudi towering over 2695 m, is situated here.
The Idukki wildlife sanctuary and Chinnar wildlife sanctuary are treasure troves of dry deciduous forests especially high sholas and wetlands and form part of the rain shadow region of the western ghats. The latter is a habitat of the endangered Giant Grizzled Squirrel. The noted arch dam in Idukki is the only one of its kind in the country.
Discover the Gateway to the High Ranges…
Accommodation at Idukki