Destination - Kovalam
Kovalam is an internationally well-known beach town located on the coast of the Arabian Sea. Located 6 km from the capital city of Thiruvananthapuram, it has a stretch of crescent-shaped beaches which beckons travelers from all over the world. Popularly referred to as 'Paradise of the South', it is today a favorite haunt of domestic as well as foreign tourists who throng the sandy palm-fringed beaches and the nearby attractions throughout the year.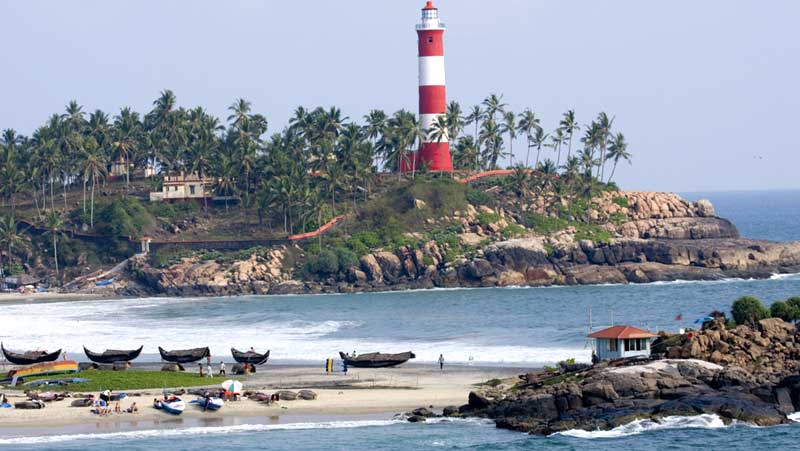 The southernmost part of the beach, also known as the lighthouse beach, which offers an amazing sight of the Vizhinjam mosque, is the most popular. The beach which stretches along the azure blue waters and lined with a sumptuous spread of coconut trees makes it a naturally desirable tourist destination. The hospitality services in and around the beach include luxury resorts offering various leisure options like sunbathing, swimming & watersports, ayurvedic rejuvenation therapy, yoga packages, herbal body toning massages, exotic cuisine, cultural events, and local sightseeing.
Lined with fertile coconut palms gently swaying in the breeze, and the beaches with a host of delightful amenities such as juice kiosks, snack shops and hotels serving seafood, and shacks selling beachwear and cheap trinkets, Kovalam is listed among the most popular travel destinations in the country. The peaceful and relaxing atmosphere at the beach makes it an ideal venue to enjoy live entertainment through cultural performances that are hosted here. Kovalam beach is famous for its splendid views of the sunrise and sunset. Besides, there are innumerable shops in and around the beach selling handicrafts, jewelry, cloth and Kerala souvenirs that are a rage with the tourists especially foreigners.
Kovalam has been in the limelight as an international tourist beach since the 1930s. One of the most popular beaches in the whole of India, the glory of this 4 km-long stretch of beach has spread far and wide. Kovalam once used to be an insignificant coastal fishing hamlet inhabited by none other than the local fisherfolk who made a living by catching fish from the sea using traditional methods. Later on, it was put on the global tourism map when the hippy community discovered it and drawn by the seascape, privacy and peace it offered, made it their bastion.
Highlights: crescent-shaped beaches - a cool shade of coconut palms – houseboat cruising - relaxing ayurvedic salons - renaissance resorts - curio shops - kiosks serving crunchy seafood
Tourist spots – Lighthouse beach – famous lighthouse - internationally known Vizhinjam Terminal – Karamana river - Thiruvallam backwaters – Vellayani lake – Edakallu sunset viewpoint – Art gallery – Aruvikkara dam
For Accommodation - Hotels / Resorts / Homestays at Kovalam
For more details about Kovalam, Kerala, India, visit our exclusive portal - www.kovalam.com