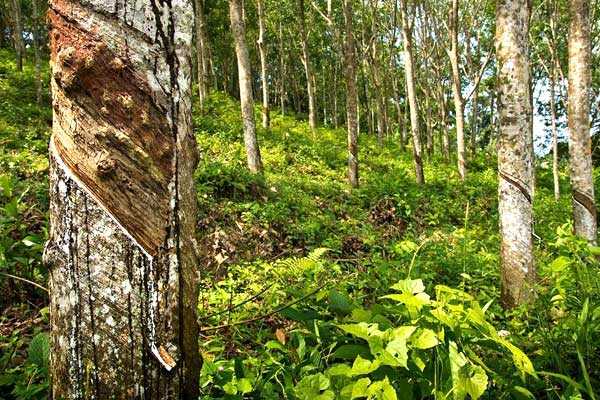 Kottayam has been an important trading and commercial centre of Kerala, especially of cash crops and plantation crops. With tracks of the lofty western ghats to delight trekkers, panoramic backwater stretches of Kumarakom and other nature spots to entertain vacationers, the district also boasts several media publishing houses and training institutions, making significant contribution to literacy and education in the state.
Kottayam district, by virtue of its network of lakes and lagoons, lush paddy fields, high lands covered by sprawling rubber plantations, and numerous educational institutions and publishing houses, has rightly earned the enviable title 'the land of letters, latex and lakes'.
The district has innumerable tourist attractions. Kumarakom, situated 13 kms away from the city, is a sleepy little village on Vembanad Lake offering a wide variety of flora and exotic sightseeing, boating and fishing experiences. The bird sanctuary spread across 14 acres is a safe haven for many migratory birds from around the globe.
The paradise stocked with mangrove forests, emerald green paddy fields and coconut trees lining water ways and canals adorned with white lilies, enchants tourists from the world over. Vembanad Lake is home to several exclusive types of marine life like the Chemeen (Prawns), Konju (Tiger Prawns) and Karimeem.
Elaveezhapoonchira, a small hill station 60 kms away from Kottayam is a fascinating tourist spot. This is also one of the best places in Kerala to witness both the sunrise and sunset. Locked between three hillocks Mankunnu, Kudayathoormala and Thonippara, Poonchira is a place of picturesque charm. The beautiful valleys of Poonchira spread across thousands of acres and the verdant landscape punctuated by the gigantic hills, is a unique feature of this land. During monsoon season, the water that gets accumulated over a wide area looks like a placid lake, reflecting the rain clouds and the majestic mountains. The pristine beauty of nature is preserved almost intact in this tiny region.
Vaikom town, of the historic 'Vaikom Satyagraha' fame, is situated in the western part of the district. The famous Mahadeva temple located here celebrates the popular festival of 'Vaikkathashtami' annually. The Poonjar Palace is a glorious testimony to the regal opulence of a bygone era, with its royal exquisite collection of antique items and furniture.
Erumeli is a small town nestled in the evergreen jungle, on the way to the prime Hindu pilgrim destination of Sabarimala. Situated 64 km away from Kottayam is Wagamon, a trekkers paradise. Hills carpeted with green grassy meadows and velvet lawns coupled with the cool misty mountain air make this unique hill county a perfect holiday retreat.
Discover The Land of Letters…
Accommodation at Kottayam