Destination - Cherai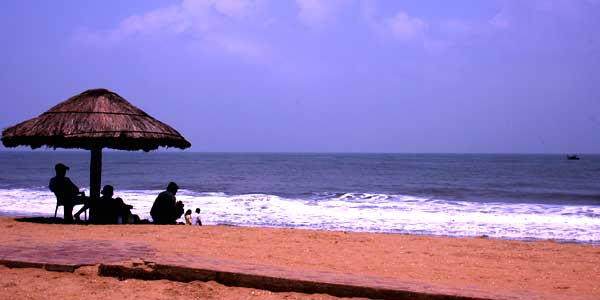 Cherai is a small village forming part of Pallipuram panchayat in Ernakulam district, Kerala. This beach destination is situated at the northern end of the Vypeen island, at a distance of 30 km from Kochi, the business capital of the state. The towns nearest to Cherai are north Paravur, 6 km away and Kodungallur, 10 km away. The nearest railway station is Aluva, at a distance of 20 km.
As part of a land with a history dating back to more than 500 years, Cherai boasts of a rich cultural heritage, housing monuments belonging to different dynasties that ruled the place at different points of time.
The Portuguese, Dutch and British dynasties had ruled the Cherai area. The hexagonal fort built by the Portuguese in 1503 still stands as one of the oldest European monuments of India. The Portuguese had built by the lakeside, a theological school called 'Vyikotta Seminary' which was later converted into a Leprosy center by the Dutch when they took over the rule from the former. The printing press built at this School in 1577 is claimed to be the first printing press in Kerala by some historians. Later the British took over the area when they defeated the Dutch in 1795. One of the greatest ideological leaders of Kerala, Sahodaran Ayyappan who was a pioneer of the renaissance movement contributing to the state's political and social revolution, is a native of Cherai.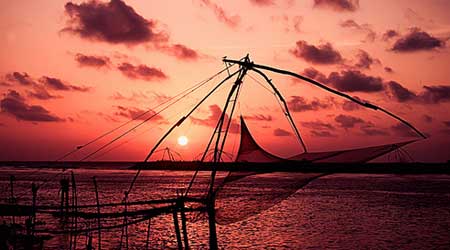 The 15 km of a long golden beach is very clean, shallow, and is suited for swimming and sunbathing. This is one of the few places where one can see the lagoon and the sea separated only by a few hundreds of meters. One of the main events at this beach is the annual tourism fest held in December. The tourist season is stretched throughout the year barring the rainy months from June - October. The nearby beach destination of Kuzhupilly is also popular for the national kite flying contest held here every year.
There are some fine resorts and cottages available in the vicinity with modern amenities and amazing views of the aqua blue sea, the clean white sands, and the green backwaters. These accommodations offer the best of services that include travel desk, convention center, valet parking, foreign exchange etc. The golden beach, crystal clear waters, the unpolluted ambiance, absolute calm, and privacy – all of which contribute towards a wonderful travel experience.
Highlights: Beach destination – historical significance – tourism festival – comfort accommodation – clean golden sands – total privacy
Tourist spots: Vypeen islands – Cherai beach – Portuguese fort – Vyikotta seminary – the Printing press – Kuzhupilly kite fest
For Accommodation - Hotels / Resorts / Homestays at Cherai
For more details about Cherai, Kerala, India, visit our exclusive portal - www.cherai.in