Destination - Varkala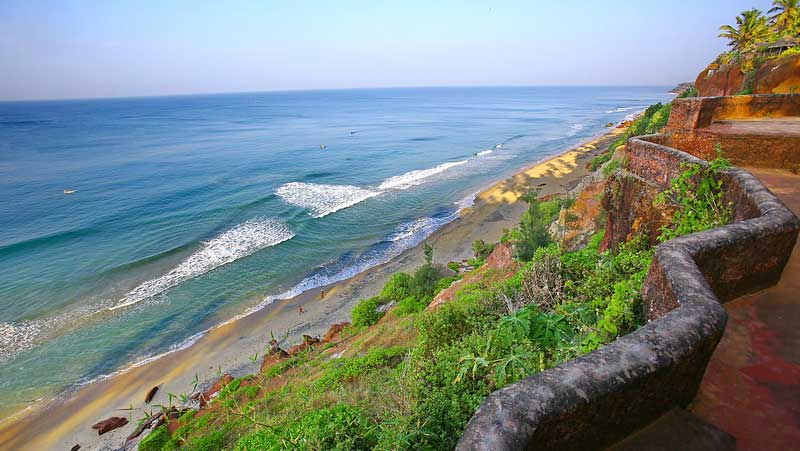 Varkala is a quiet seaside destination on the shores of the Arabian Sea and situated in the outskirts of Thiruvananthapuram. The calm and quiet beach hamlet is blessed with a unique geological feature – that of natural laterite cliff formation. This sedimentary formation has been declared a geological monument by the Geological Survey of India. Varkala beach also possesses several mineral water springs. This beach destination has become the favorite haunt of tourists from within and outside the country for the peace and pleasure it offers in its clean and charming surroundings ideally suited for pilgrimage tourism.
The coastal and pilgrim town of Varkala, located 51 km north of Thiruvananthapuram, is a natural paradise for tourists, with its infinite charm and entertainment facilities for boat riding, sunbathing and Ayurveda. Varkala is also an important religious place for the Hindus. The Papanasam beach at Varkala is a quiet, secluded patch known for its white, silvery stretch of sand, mineral springs and rocky cliffs. The final resting place of Sree Narayana Guru, the great social reformer of Kerala, is near Varkala, atop a hill named Sivagiri. High cliffs with mineral springs rising majestically is a scene typical of Varkala.
As per legend, sage devotee Narada was approached by a group of mendicants who confessed to having sinned. Narada is said to have thrown his 'valkkalam' the bark of the tree which the mythical sage used to wear, into the air, and the place where it landed was subsequently named Varkala. The mendicants were directed by Narada to offer their prayers at the newly created place by the seashore. This place where they prayed for redemption came to be known as the Papanasam beach, the term 'papanasam' meaning redemption from sin.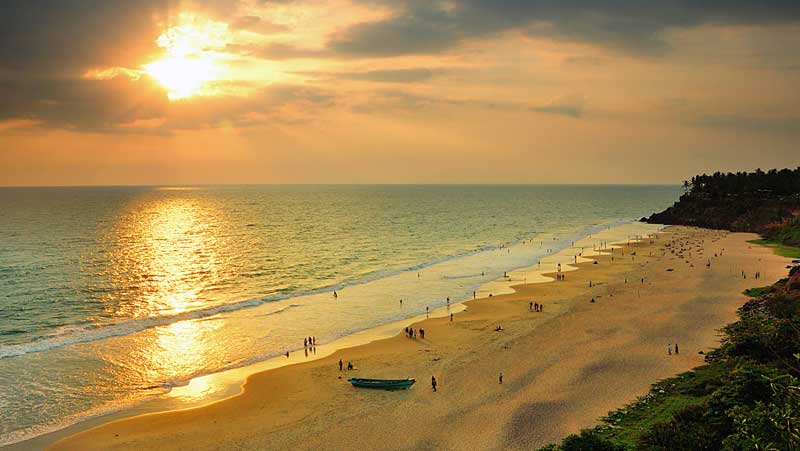 Varkala is an ideal tourist spot surrounded by the freshness of the waters of the Arabian Sea, the greenery of beautiful meadows, deep puzzling valleys and dales. The beach at Varkala is thronged by visitors who come here to watch amazing views of sunrises and sunsets. There are several small restaurants and snack shops near and around Varkala beach where visitors are offered delicious local Kerala cuisine. Varkala beach surroundings are especially suited for yoga practice as well as for undergoing ayurvedic treatment and spas.
Highlights: beach haven - beautiful sunsets – mineral springs – red laterite cliffs - serene pilgrim hamlet
Tourist spots: Janardhanaswamy temple – Papanasam beach – Sivagiri mutt – Kappil lake – Varkala tunnel – Anjengo fort
For Accommodation - Hotels / Resorts / Homestays at Varkala
For more details about Varkala, Kerala, India, visit our exclusive portal -www.varkkala.com