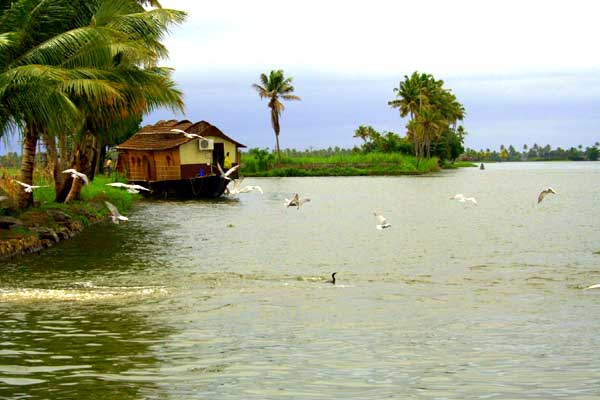 Alappuzha - Alleppey is well-known for its sandy beaches, low lying paddy fields and the network of canals crisscrossing each other that offer excellent houseboat cruises for visitors. The lagoons lined with rows of palms on either side reflect a serene and scenic countryside wherein villagers engage in activities like fishing and coir-weaving. Dynamic boat races are yet another attraction in the district.
An idle houseboat cruise along the blue-green backwaters of Punnamada kaayal can be a memorable experience. The Lake is the venue of the legendary Nehru Trophy Snake Boat Race which has become an international tourist attraction. Kettuvallam – Houseboat cruises, as well as motorboat rides, can be undertaken from Alappuzha to Kumarakom.
The journey offers a magically breathtaking ambiance, with a view of some rare and exotic migratory birds adorning the waterways and the star-studded night sky for a roof. Water lilies floating in the pond, fishermen with their catch, women weaving cane baskets and coir mats, ducks merrily paddling away – all these forming part of the village vista can be witnessed during the kettuvallam ride.
The Nehru Trophy boat race conducted annually at the Punnamada Lake premises is a spectacular breathtaking event, with thousands of enthusiastic rowers in the 'chundanvallams' slicing their way forward, to the accompaniment of fisherfolk music, and the crowds cheering the contestants all the way to a hair-raising thrilling finish.
Other attractions are Alumkadavu, the abode of the kettuvallam, where these traditionally used rice barges were made by local artisans; the fascinating island of Pathiramanal, an ideal picnic spot and a bird watcher's paradise; the picturesque expanse of paddy cultivation done below sea level around Kuttanad, the state's rice bowl; the noted Mannarsala temple with some 30, 000 deities of snake gods located in thick mangrove jungle;Ambalappuzha Sree Krishna temple renowned for its delicious sweet rice porridge; 400 year old Champakkulam church, one of the 7 churches established by St. Thomas.
Discover The Venice of the East…
Accommodation at Alappuzha