Destination - Thekkady
Thekkady is home to one of India's foremost wildlife sanctuaries in the south, situated on the banks of the popular lake Periyar. The town of Thekkady and the surrounding sanctuary lying in Idukki district is nestled along the high ranges of the Western Ghats and typically covered by dense evergreen forest. Periyar sanctuary and its vicinity are known for its abundance of greenery, innumerable water sources, nature trails and diversity of wildlife.
The Periyar forest consists of a) the open grasslands which are home to the elephant, bison and deer; b) the moist deciduous forest dominated by trees like Terminalia and Teak which shed their leaves seasonally; c) the semi-evergreen forest occurring along wet stream areas; and d) the 'Sholas' or tropical evergreen jungle that is typical of the entire western ghats in the state. The varied habitat in the sanctuary supports a number of species of terrestrial, aquatic as well as arboreal animals, birds, and reptiles.
Some of the animals of the Periyar wildlife sanctuary that can be seen freely roaming around in their natural habitat are herds of elephants, sambars, tigers, gaurs, lion tailed macaques, Nilgiri langurs and more. The avifauna includes herons, egrets, darters, kingfishers, and the great Malabar grey hornbill.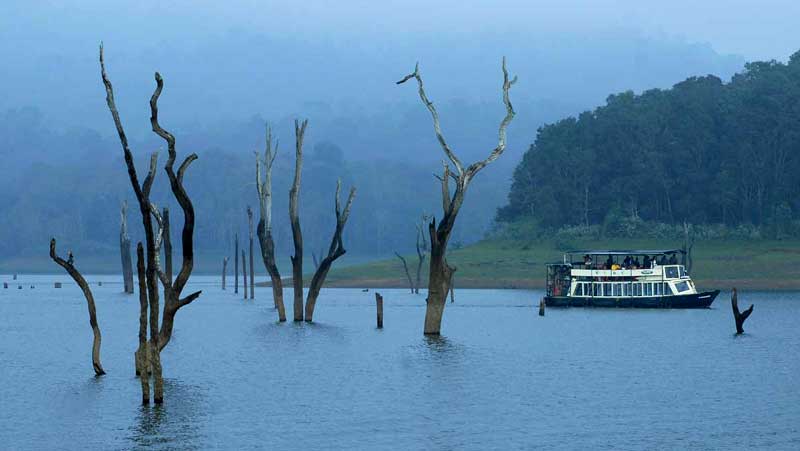 Spread across an area of 777 sq km of which 360 sq km is thick evergreen forest, and covering an artificial lake of 25 sq km, Thekkady, with its bountiful reserves of tropical flora and fauna, is a paradise for nature & wildlife enthusiasts. Thekkady offers the most enchanting holiday experience with its unending chains of hills, cool crisp mountain air, spice-scented plantations, meandering stretches of lakes and backwaters, and secluded hamlets set amidst picturesque locales. The motorboat ride through the waters offers great scope for watching wildlife at close range and shooting vibrant pictures. The verdant jungle covering cliffs, mountain trails, valleys, and water holes, is a fine place for trekkers and adventure seekers.
Eco tours covering cardamom, pepper, coffee and tea plantations wound up with a visit to the local tea factory remain great attractions among the visitors. Tour packages also arrange visits to the nearby tribal settlements and surrounding hill regions. Besides, the Forest Department conducts jumbo safaris for travelers during the daytime.
Highlights: unending rows of hills - tropical evergreen forest – wildlife reserve rich in flora, fauna – verdant valleys – scenic locales – motorboat rides – jungle safaris.
Tourist spots: Periyar wildlife sanctuary – Periyar Lake - Kumily plantation town – Mangaladevi hill temple – Vandiperiyar pepper estates/ tea factories/ agriculture farm/ flower garden – green hill town of Pulmedu on Periyar river bank.
For Accommodation - Hotels / Resorts / Homestays at Thekkady
For more details about Thekkady - www.thekkady.com