The mountain district of Wayanad is known for its dense evergreen forests, rich wildlife, and tribal habitation. Cradled in the greenery of nature and surrounded by exotic flora and fauna, the place is an enchanting and pristine tourist paradise where one can find pleasure staying in treetop huts, enjoying the cool soothing breeze and listening to the lively chirp of birds.
The name Wayanad has been derived from the expression Vayal Nadu - the village of paddy fields. The green paradise forms the border world of the greener part of Kerala. Situated not far from Kozhikode, the city of Zamorins, Wayanad is a world apart from Kerala's agricultural and industrial epicenters. This mountainous region is a quiet place abounding in scenic beauty, alluring vegetation, wildlife and tradition. Clean and pristine, enchanting and hypnotizing, this land has a history and mystery, culture and social epistemology yet to be discovered.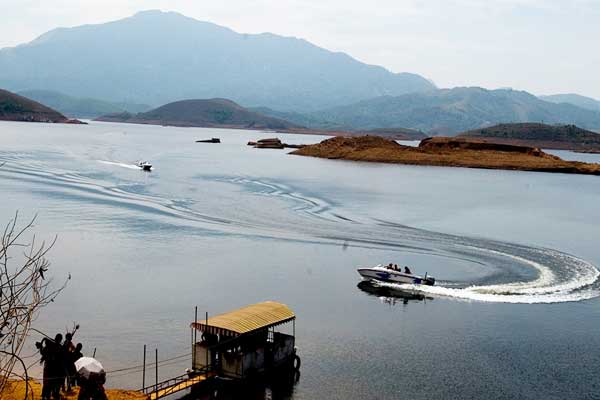 Wayanad is located at a distance of about 76 km from the sea shores of Kozhikode in the Western Ghats. Wayanad hills are contiguous to Mudumalai in Tamil Nadu and Bandipur in Karnataka, thus forming a vast land mass for the wildlife to move about in its most natural abode. Wayanad is known for its rich tribal heritage, agricultural wealth, lush green virgin forests, natural sources of water and hill ranges. The least populous of Kerala's districts, Wayanad is relatively backward and appreciable development is yet to take place in the lives of the fifty-odd tribes who comprise a sizeable section of the population and who lead a unique lifestyle. The district, with its rich natural resources, offers excellent scope for adventure tourism.
Banasura Sagar Dam is a prime attraction in Wayanad. Muthanga wildlife sanctuary belongs to the Nilgiri biosphere and is connected to Bandipur National Park of Karnataka and Mudumalai Wildlife Sanctuary of Tamil Nadu. It is famous for its elephant and tiger population besides leopards, wild cats, stags, spotted deer, wild squirrels, bears, wild pigs, porcupines, and wild mongooses as also a variety of land and water birds.
More attractions are in store for the visitor to Wayanad. There is the unique Karapuzha dam built entirely of mud; the 1000-year-old Bathery Jain temple with granite pillars and carvings; Kaduvakkuzhi or Tiger Valley, a paradise for adventure seekers and trekkers situated at Cheengeri Hills near Ambalavayal; the scenic Meenmutty Falls on the Vaduvanchal route, 29 km from Kalpetta; Soochippara Falls set amidst sprawling tea estates, at 13 km from Meppady; Chembra Hill with camping facilities, perched 2100 ft above sea level; Thirunelly temple popular for conducting funeral rites; Kuruva islands surrounded by evergreen forest with the river Kabini flowing through it; Pookode Lake with picturesque landscape and boating facilities; and the historic Edakkal Caves at Ambukuthy Hills famous for their cave paintings.
Discover The Green Paradise…
Accommodation in Wayanad