Destination - Kumarakom
Kumarakom, located 13 km away from Kottayam, is a sleepy little village on the scenic Vembanad Lake in Kerala. It is a cluster of little islands forming an interesting Waterworld offering a wide variety of flora, water flowers and fish, and exotic sightseeing, boating and fishing experiences to the tourist.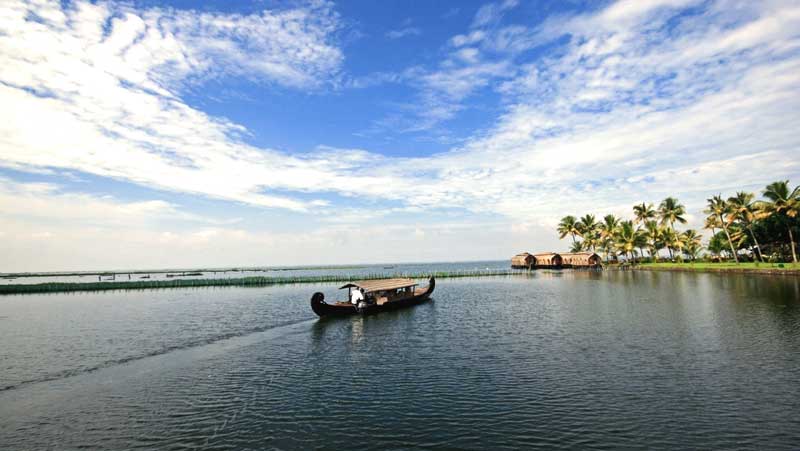 Kumarakom is an enchanting picnic spot dotted with lush green mangrove forests, paddy fields that stretch out far into the horizon and rows and rows of coconut palms that criss-cross the backwater canals. Houseboat cruising in the blue-green backwaters with fascinating views of the surrounding scenery and rustic lifestyle of the locals is a delightful experience. One can enjoy the stay at Kumarakom by basking in the comfort of cool resorts, cozy hotels and homely homestays nestled in pristinely beautiful environs and set amidst greenery, with enchanting views of waterways and paddy fields. You can find traditional country made boats or rice boats, rafts and canoes in plenty across the length and breadth of this dreamy destination.
The Pathiramanal islands or the 'sands of midnight' lying between Kumarakom and Thanneermukkom is a 10-acre island in the backwater destination and home to many rare and migratory birds arriving from faraway lands. Kumarakom bird sanctuary which is spread across 14 acres, is an ornithologist's paradise consisting of numerous species of common, rare as well as flocks of migratory birds landing here from different parts of the world. Egrets, darters, night herons, teals, waterfowl, wild ducks, golden-backed woodpeckers, native kingfishers, and Siberian storks are some of the avian varieties that are found in this nature's haven.
The best way to get a feel of the place is to undertake a leisurely kettuvallam tour around the spot, soaking in the serene ambiance offered by the greenery of the land, the cool meandering backwaters, lush paddy fields and rows of coconut fronds gently swaying in the breeze. Visitors can also get to taste delectable varieties of cooked seafood such as 'karimeen', 'chemmeen', lobsters and prawns.
Kumarakom is accessible by road from Kottayam from where buses ply frequently and also taxis can be hired. The nearest railhead is at Kottayam. As for airports, there are the two international airports situated in Kochi and Thiruvananthapuram, at a distance of 85 km and 250 km respectively from Kumarakom. The place can also be reached by boat from Alappuzha.
Highlights: emerald green peninsula – bountiful flora & fauna – picturesque village setting – mangroves, paddy farms & waterways - backwater rich in marine life – fishing, boating & sightseeing – naadan fish cuisine
Tourist spots: Vembanad lake – Bird sanctuary – Kumarakom backwaters – Houseboat tours - Pathiramanal island
For Accommodation - Hotels / Resorts / Homestays at Kumarakom
For more details about Kumarakom, Kerala, India, visit our exclusive portal - www.kumarakom.com