Destination - Bekal
Bekal is a sm
all place located on the shores of the Arabian Sea in Pallikare village in Kasaragod district of Kerala. Situated 15 km away from the Kasaragod town, the fort is a major tourist attraction. The Bekal Fort is the largest and best preserved one of its kind in Kerala. There is a temple at the entrance of the Fort dedicated to Lord Anjaneya.
The noted spiritual center of Anandashramam offers the most suitable atmosphere for the visitors who want to take up meditation or pursue spiritual studies. The main ashram and other buildings have a beautiful setting in the midst of shady mango and coconut groves. There is a hill to the east of the ashramam, to which the devotees retire for quiet meditation and from its west, the surrounding extensive landscape can be seen in its natural grandeur. The spot at the highest point of the hill is so fascinating that the devotees, who go up the hill and sit silently, are blessed with deep peace and tranquility.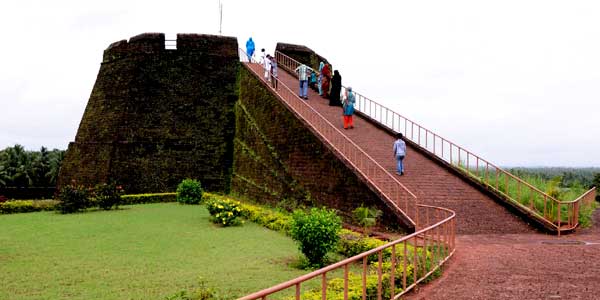 The Ananthapura lake temple is supposed to be the original seat of Lord Ananthapadmanabha of Thiruvananthapuram. The lake is said to be the home of a certainly venerable crocodile, believed by devotees to be the guardian of the shrine inside the temple. The Chandragiri fort along the banks of the river Payaswini and built in the 17th century has an eventful history behind it. The picturesque Ranipuram range nearby is another tourist hotspot located 750m above sea level on the Western Ghats in Kasaragod district. Covered with evergreen Shola woods, monsoon forests, and grasslands, this beautiful land is known for its trekking trails.
Bekal is easily accessible by a wide network of roadways, linking it with the major towns and cities of Kerala. The nearest railhead is at Kasaragod, and the nearest airport at Mangalore, 50 km from Kasaragod.
There are a luxury as well as budget resorts available in the vicinity that offers comfortable accommodation at cost effective prices. These places of stay are nourished by nature and history and offer the best of services in lodging, cuisine, body care and more.
Highlights: historically significant site – beach destination – resorts with in-house lakes & lagoons - venue of the largest fort in the state – the small village
Tourist spots: Bekal fort – Pallikare beach - serene meditation center of Anandashramam at Kanhangad – Ananthapura lake temple near Kumbla – historical fort and backwaters of Chandragiri – Shiva temple, Madhur – Ranipuram mountain terrain near Kasaragod town
For Accommodation - Hotels / Resorts / Homestays at Bekal
For more details about Bekal, Kerala, India, visit our exclusive portal - www.bekal.com