Kollam - Quilon is situated in the south-west corner of the state and forms the southern gateway to the backwaters of Kerala. Located on the shores of Ashtamudi Lake, this district which offers heavenly houseboat rides is a major backwater destination. The place once called Kollam - Quilon, and Desinganadu has been a major seaport and a prime trade center since ancient days. The eminent spiritual mutt of Mata Amritaanandamayi is located here.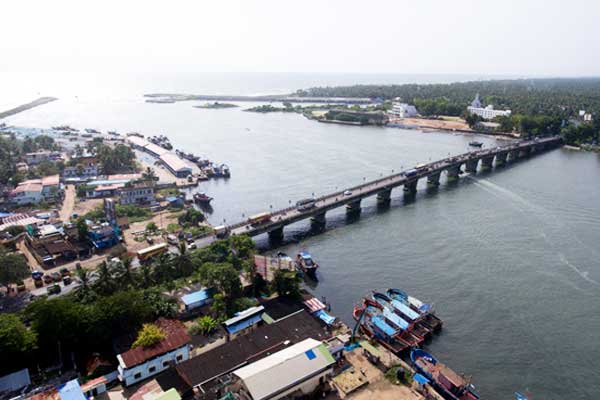 Kollam - Quilon, with its numerous cashew plantations, takes the credit for being the hub of the country's cashew trading and processing industry. Offering an impeccable blend of scenic surroundings, tradition, and hospitality, Kollam is often referred to as the dreamland of Kerala. Kollam - Quilon in the bygone days was famous for its palaces and the place was sometimes called as the City of Palaces.
Considered as one of the oldest ports on the Malabar Coast, the town once served as a leading spice market frequented by Phoenician, Persian, Roman, Arab and Chinese traders from Europe and other continents. Kollam - Quilon is blessed with unique representative features of the state - sea, lakes, plains, mountains, rivers, streams, backwaters, forests, vast green fields and tropical crop of every variety, both food crop, and cash crop. The eight-hour boat trip between Kollam and Alappuzha is the longest and most enchanting experience on the backwaters of Kerala.
Once the capital of a powerful kingdom called Venad, the region is said to have existed as far back as the 9th cent. AD. Historians cite that the Malayalam era termed 'kolla varsham' was coined by the then ruler of Venad. The district also has some interesting historic remnants and a number of temples built in the traditional ornate architectural style. Among the towns in Kerala, Kollam is one town that is famous for its antiquity. Today Kollam is one of the major industrial and commercial centers of Kerala and the prime hub of Kerala's cashew nut industry.
The serene Ashtamudi Lake with scenic landscape; the secluded Thirumullavaram beach; Palaruvi woods & waterfalls; Kottarakkara Kathakali museum; the five thousand year old Thenmala rocks and Deer Park; Thenmala dam & eco-tourism site; the unique pilgrim centre at Oachira; the vast freshwater lake at Sasthamkotta; the historic seaside village of Thangasseri with its lighthouse; the mineral-rich Chavara industrialized zone; Picnic Village with recreational facilities like a boat club and an adventure park for children; the architectural Kottukal rock-cut cave temple, and the world-famous Mata Amritaanandamayi Ashram of India's female guru are some of the tourist attractions in and around Kollam district.
Discover The Cashew District…
Accommodation in Kollam