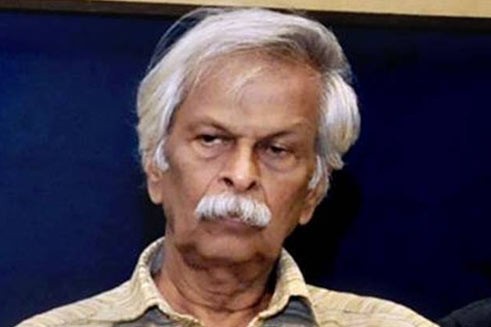 Kanayi Kunhiraman is a famous sculptor from Kanhangad, Kasargode district of Kerala state, India. He is the Chairman of the Lalit Kala Academy.
Kunhiraman is the first sculptor recipient of the prestigious Raja Ravi Varma Award, which includes Rs one lakh in cash, a citation, and a statue, sculptured by Kunhiraman himself. It was conferred by Kerala's Chief Minister Oommen Chandy at Thiruvananthapuram.
Kanai Kunjiraman is one of the outstanding sculptors Kerala has ever produced. With his extraordinary and inborn artisanship, he has produced beautiful and exquisite sculptures.
Unleashing his delicate and charming aesthetic feelings and creativeness, Kanai has tried to conjure up the images of nature and its related beauty in its entire magnitude.
He has been instrumental in popularizing the sculpture-related art form hitherto unfamiliar to the common man. He wants his sculptures to be seen as an offshoot of his creative thinking. As for Kanai, it is for his mental satisfaction that he makes the artistic creations.
Recently two of his Artistic Creations Melathara and Kalithara were formally inaugurated with the Violin Concert of Internationally Acclaimed Musician L.Athira Krishna in Quilon Sopanam Complex, Kerala.