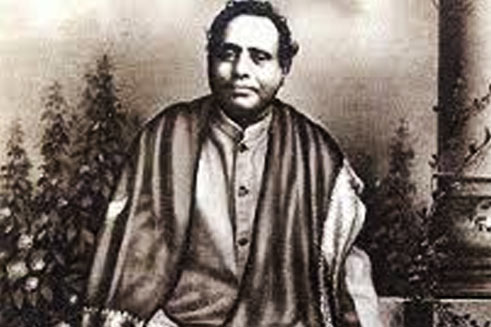 N. Kumaran Asan (Malayalam:കുമാരനാശാന്‍)(1873-1924) also known as Mahakavi Kumaran Asan, (the prefix Mahakavi awarded by Madras University in the year 1922 means "great poet" and the suffix Asan meaning scholar or teacher) was one of the triumvirate poets of Kerala. He was also a philosopher and a social reformer. More than that he was one of an honored disciple of Sree Narayana Guru.
Kumaran Asan initiated a revolution in Malayalam poetry in the first quarter of the 20th century, transforming it from the metaphysical to the lyrical. Deep moral and spiritual commitment is evident in Asian poetry. His works are an eloquent testimony of poetic concentration and dramatic contextualization.
Asan was born in a merchant family belonging to the Ezhava community in April 1873 in Kayikkara village, Chirayinkeezhu taluk, north of Thiruvananthapuram district of Kerala, south India. Named Kumaru He was the second son in a family of nine children. His father, Narayanan Perungudi, was well versed in Malayalam and Tamil. Asan inherited his taste for Kathakali and classical music. Kumaru trained in mathematics and Sanskrit for which he had a passion. Even though through his fathers' efforts, he got a job as a primary school teacher and an accountant to a wholesaler at the age of 14, he quit the job two years later to pursue higher studies in Sanskrit. He undertook a studentship in poetry under Manamboor Govindan Asan. He wished to learn Yoga and Tantra and worked as an apprentice in a Muruga temple at Vakkom. It is said that the Muse of Poetry blessed him during this time. He composed a few devotional songs for the benefit of regular worshippers at this temple.
In 1917 Asan married Bhanumathiamma daughter of Thachakudy Kumaran - younger brother of Dr.P.Palpus father. Asan had two sons, Prabhakaran and Sudhakaran. Bhanumathiamma, who was an active social worker, later remarried after Asians untimely death. Bhanumathiamma passed away in 1975.