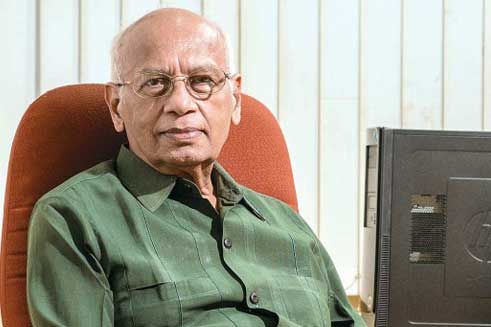 Dr.Marthanda Varma Sankaran Valiathan or Dr.M.S.Valiathan is a renowned cardiologist and cardiac surgeon based in Thiruvananthapuram, Kerala. He is a visionary who has pioneered successful efforts in designing cost-effective heart valves and making them accessible and affordable to the public. He is a Fellow of the Royal College of Surgeons (England & Edinburgh). He also holds a degree in cardiovascular and thoracic surgery from the Royal College of Physicians & Surgeons, Canada.
Dr.Valiathan received his initial medical education in India, completing his degree from the University of Kerala in 1956. He went on to do his post graduation in surgery at the University of Liverpool in the UK. Later he underwent specialized training in cardiac surgery at the John Hopkins and Georgetown University hospitals in the US.
The founder-cum-director of the Sri Chithira Thirunal Institute of Medical Sciences & Technology, Thiruvananthapuram, and former Vice-Chancellor of Manipal Academy of Higher Education, MAHE, his medical interests have spanned the fields of pediatric cardiac surgery, tropical heart muscle disease, and development of cardiovascular devices.
Dr.Valiathan is presently the chairman of the Academic Council of Mar Athanasios College For Advanced Studies, Thiruvalla. He is regularly invited to attend several national and international symposiums on heart care. He has also published several scientific research documents on the topic of cardiac surgery.
Dr.Valiathan has authored a famous treatise titled 'Legacy of Charaka, Sushrutha, and others of the Indian System of Medicine'(published by Orient Longman), which is a retelling of the original Sanskrit version 'Charaka Samhitha' composed by Charaka who is the founder of Ayurveda.
Achievements & Awards
He was instrumental in developing the Sree Chithira Thirunal Institute of Medical Sciences & Technology, located in the capital city, into a prestigious organization of national repute. The institution is known for its technologically advanced healthcare system and services, especially in the Departments of Cardiology and Neurology, that is well within the reach of the common man. The 'heart valve' devised at this institution has seen huge commercial success and has been recognized worldwide for its quality and affordability.
Dr.Valiathan's accomplishments in his area of specialization have credited him with numerous awards and recognition. He is a recipient of Indian National Science Academy Shree Dhanwanthari Puraskar in 1991. He has also been honored with Indias second highest civilian award, Padma Vibhushan, in 2005.
He admits the fact that the Indian healthcare industry is growing at a rapid pace. However, he rues the indifference, apathy, and inefficiency shown by the government in offering effective and affordable healthcare services to the mainstream.
He feels that not with standing the latest research and technological advancements in cardiac surgery abroad, especially in the areas of instrumentation, operational techniques etc vis-à-vis cost-effective modalities, a lot is left to be done in the country. He feels India lags behind in leadership and innovation where medical science and research is concerned and is doing only rudimentary R&D work in medical instrumentation and devices technology.
Dr.Valiathan is constantly engaged in creating awareness in educational institutions and facilitating medical research related work in the state and country by actively participating in seminars, discussions, and lectures on cardiothoracic surgery, cardiovascular devices, issues related to coronary heart diseases, valve replacement techniques and related topics.
As a person, he is erudite and unassuming. He believes that a medical practitioner must possess a combination of knowledge, skill, efficiency, and humaneness in order to discharge his duties diligently.
According to him, India has immense growth potential, and a disciplined society, enterprising attitude coupled with national spirit and pride is what is needed to set the country on the right track of development.