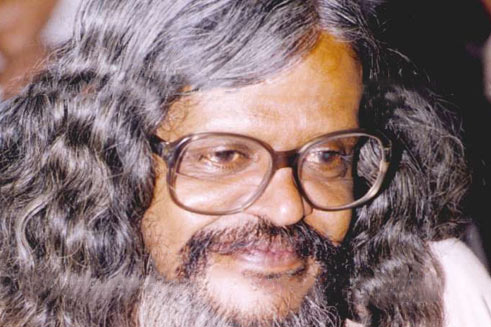 T.A. Rajendran popularly known as Nawab Rajendran (1950 – October 10, 2003) was a social activist and journalist from Kerala. With his sensational newspaper Nawab, and through his prolific use of public interest litigation, he stirred the conscience of society for nearly three decades.
T.A. Rajendran was born in 1950 as the son of Kunjirama Poduval and Bhargaviamma at Payyanur. Nawab shot to fame by the publication of a daily named Nawab which mostly brought out news about the social evil of corruption that was rampant along the corridors of power. Later on, inadvertently, the name of the publication got stuck to the publisher and T.A. Rajendran came to be known as Nawab Rajendran.
But along with fame, Rajendran became the target of many big guns of the society who considered him a threat. Subsequently, he had to close down the publication of the Nawab and was even assaulted on the streets and even behind the state prison bars. Amidst these fights, he broke a few bones and lost many more dentures to the bleak dungeons of the police stations.
When his crusade against corruption came to a dead end following the forced closure of his newspaper, Rajendran turned to another weapon i.e., the Public Interest Litigation (PIL). Soon, Nawab Rajendran with his bohemian dress and unkempt goatee became a regular feature of the judicial corridors.
The most well-known cause for which Rajendran fought was his relentless court battles against the veteran politician K. Karunakaran including the followup of the famous Thattil John murder case.
The Congress Party "Leader" K. Karunakaran's role in the destruction of this journalists life and career is widely known. Rajendran's biography talks about the elaborate plans the Crime Branch Police under DIG Jayaram Padikkal had chalked out to get some incriminating documents, which otherwise would have ruined the "leaders" political career.
The police did get the incriminating documents, but the biography states that during later years Director General of Police (DGP, retd.) Padikkal did repent for the "willful destruction of a good man's life and career", and the unorthodox methods used against him.
Towards the end of his life, Rajendran was diagnosed with cancer and was undergoing treatment. On October 10, 2003[1] he died after being found in a coma in a hotel room. Within days after Nawab Rajendran death, a controversy raged about the hasty cremation of his body contrary to his last wish of donating the body to a medical college.
Rajendran's life stands as a mute testimony not only to the gallant fight of a social worker but also to the punitive immunity that could be bought by the high-ups through the clever maneuvering of the callous vote bank.