Boat races, as a sport, signify the excellent team spirit, integration, and harmony of the people of Kerala. These boat races are held in connection with Onam, the harvest festival during August - September. Scores of long snake boats and other smaller crafts participate in these events held amidst huge gatherings of localities and people from nearby places. The race is preceded by colorful water parades organized by the local bodies. Visitors from all over India travel to the state to witness these boat races...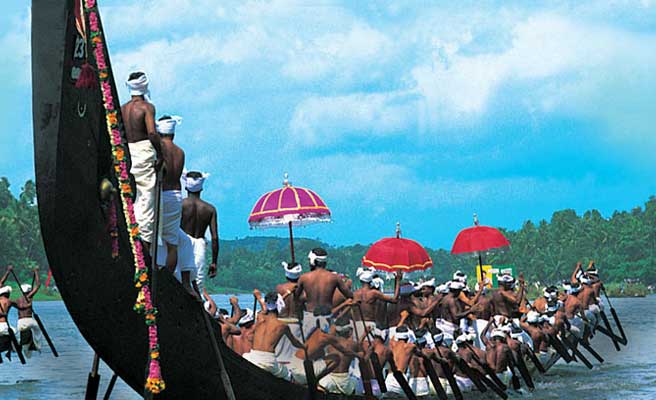 A snake boat is manned by four helmsmen, 25 singers, and 100-125 oarsmen, who row in unison to the fast rhythm of the Vanchipattu (the song of the fisherfolk). Thousands of people crowd the water's edge to cheer the huge black crafts as they slice through the waters to a spectacular finish. The oldest of these events have curious legends and myths attached to their origin. These myths are closely linked to the lives of rustic people and their beliefs.
The boat races are considered to be symbolic of the sea-faring and martial traditions of the early inhabitants of Kerala. Chundan vallams participate in the race along with scores of smaller crafts like the churulan, veppu, odi etc., with a prize for each category. There are separate races for women too. The race begins with a colorful pageant of floats, performing arts and decorated boats. The fiesta continues late into the evening.
The Eroor-Chambakkara Boat Race is conducted every year at the Chambakkara Lake in Kochi, Ernakulam district. A smaller version of the mega Nehru Trophy Boat Race, it is a local festival held with a lot of enthusiasm and public co-operation. The boat race is conducted at the premises of the Chambakkara bridge on the Ernakulam – Chottanikkara route so that the people can view it from the two banks of the Eroor canal.
Exciting floats, boisterous shingarimelam bands, colorful theyyam and kathakali scenes, adventurous water sports demos and other cultural programmes are organized as part of the boat race. The Chundan Vallams are paddled vigorously by enthusiastic oarsmen. The boat race is conducted amidst a lot of cheering and singing by the crowds thronging the surroundings.
This year's Eroor-Chambakkara boat race in Kerala was inaugurated by Minister for Forests, Benoy Viswom on Aug.23, Sunday. The water sports fete was organized by the Eroor Perikkad Boat Club. Three chundans (snake boats) and nine odi vallams (small boats) participated in the race. Traditional art forms such as Theyyam, Kathakali, Kavadiyattam, Thiruvathirakali, Pulikali, and Shingarimelam added color to the procession that was taken out in connection with the boat race. In this year's race, Cheruthana Chundan bagged the first prize. Sri Ganesh came second while Valiya Pandithan came third. MLA K.Babu, District Collector Dr. M.Beena and others spoke on the occasion.