Malayalam Film Actor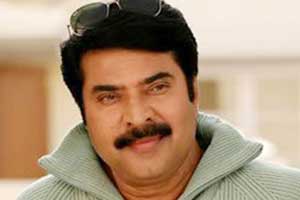 Mammootty
The Best Actor winner for the years 1989, 1993, 1998
Muhammed Kutty, popularly known as Mammootty, is a very popular Indian film actor. He is among the few actors who have won the National film award for best actor three times and six state awards in the 'best actor' category. He was the recipient of Padmashri in 1998 instituted by the Government of India.
Biography - Mammootty was born to Ismail (an agriculturist) and Fatima (a homemaker). on September 7, 1953, at Vaikom in Kottayam district of Kerala. He did his high school (pre-degree) at Maharaja's College, Ernakulam and then studied law at Ernakulam Government Law College. During his college days at Maharajah's, he got his first role, a bit part in Anubhavangal Paalichakal in 1971. After passing out from Maharajah's, he practiced as a criminal lawyer in Manjeri for 2 years.
He started his career as an actor in Devalokam, which was not released in theatres. His acting skill was first identified by the famous writer M.T Vasudevan Nair and Film director K. G. George. He first played as the hero in the movie "Thrishna" directed by the veteran director I.V Sasi, who had also directed his come back to film "Aavanaazhi". The film New Delhi based on the novel, "The Almighty" by Irving Wallace directed by Joshy was a turning point in his career. His talent was exposed by direction by M T Vasudevan Nair in films like Vilkanundu Swapnangal and by K.G George in films like Mela and Yavanika. He made his mark during 80's and 90's by enacting roles in films of stalwarts like M.T Vasudevan Nair, K.G. George, Padmarajan, P.N. Menon, and Bharathan. Later on, his talent was utilized by internationally renowned directors like Adoor Gopalakrishnan, T. V. Chandran, and Pavithran.
Two of M. T Vasudevan Nair's films with autobiographical elements were acted by Mammootty-Aksharangal directed by I.V Sasi and Sukrutham directed by Harikumar. Oru CBI Diary Kurippu was also a major landmark in the history of Malayalam Cinema. Three more murder mystery sequels were produced with the same cast of characters- Jagratha (1989), Sethurama Iyer CBI (2004) and Nerariyan C.B.I (2005), all directed by K Madhu with Mammootty as Sethurama Iyer, an intelligent CBI officer.
Mammootty touched the pinnacle of his career in Oru Vadakkan Veeragatha roughly translated as "A northern heroic folklore", again an M. T. Vasudevan Nair creation. Mammootty has received the National Award for best acting. Mathilukal based on Mathilukal, a novel by the Malayalam literary genius Vaikom Muhammad Basheer was instrumental in getting him his first National Award for Best Actor. His performance in two commercially off-beat movies Ponthan Mada by TV Chandran and Adoor Gopalakrishnan's Vidheyan won him the award for the second time. His performance in Ambedkar, an English movie by Jabbar Patel won him the National award for the third time. Mammootty has briefly crossed the boundaries of Malayalam cinema and acted in Tamil, Telugu and Hindi films. Though he proved to be only a moderate success in Tamil after Mani Ratnam's Thalapathi, his other successes in Tamil include Anandam by Linguswamy and Kandukondain Kandukondain by Rajiv Menon. Mammootty's presence was felt on the national level with the biographical film on Dr. Baba Saheb Ambedkar, directed by Jabbar Patel.
He put an end to all criticisms by giving a striking performance in comic roles in movies like Rajamanikyam, Balram Vs Tharadas, Thommanum Makkalum, Thuruppugulan and Maayavi which were of great success
Mammootty with family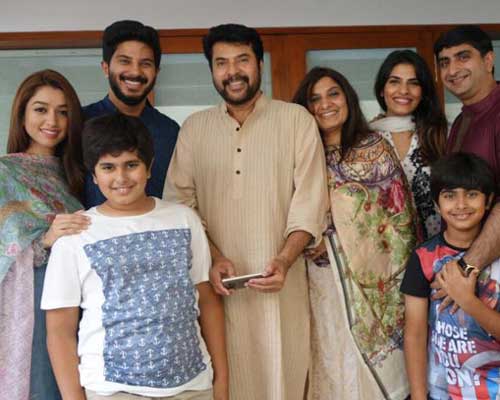 National Awards
Name of the Film:
Oru-Vadakkan-Veeragatha, Mathilukal-1989
Vidheyan, Ponthanmada-1993
Dr. Ambedkar-1998
State Award
Ahimsa-1981
Adiyozhukkukal-1984
Yathra, Nirakkoottu-1985
Oru-Vadakkan Veeragadha,Mahayaanam, Mrigaya-1989
Valsalyam,Vidheyan, Ponthanmada
Kazhcha-2004
Film Critics Award
Yavanika-1982
Aksharangal, Kanamarayathu-1984
Yathra, Nirakkoottu-1985
Thaniyavarthanam, New Delhi-1987
Mathilukal, Mrigaya,Oru Vadakkan Veeragadha-1989
Sooryamanasam, Aayirappara, Pappayudey Swantham Appoose-1992
Sukritham-1994
Bhoothakannadi-1997
Chalachitra Ratnam-2004
Karutha Pakshikal,Palunku-2006
Other Awards
Padma Shri-1998
Everest Award-2006
Legendary Actor-2007
V. Santaram Award-1998
Asia Pacific Merlian Award
Cinema Express Awards
Ramu Karyat Award
Screen Award
Asianet Award
Mathrubhumi
FOCCANA
Amritha Channel
Jesey Foundation