Explore Kerala , Kerala Tourism , Hotel / Resorts, Homestays, Houseboats – Reservations. Kerala taxi booking , Kerala Real Estate, Malayalam cinema
Ayurveda Packages in Palakkad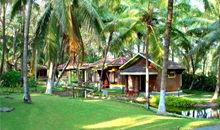 Kairali Ayurvedic Health Resort
Kairali Ayurvedic Health Resort is undoubtedly a resort with a difference. Set amidst 50 acres of lush greenery in Palakkad, Kerala, popularly referred to as Gods own Country, Kairali promises to be a singular chapter in any tourists Indian experience.
View Details

Ayurveda Mana - Poomully Arathampurans
Poomully mana, having history of over 500 years was considered to be one of the richest and powerful namboothiri families in Kerala. Poomully Mana was reconstructed in 1850 by Shri. Poomully Narayanan Nampoothiripadu.
View Details