A master performer of Kathakali
Kalamandalam Gopi as Nala and Kalamandalam Padmanabhan Nair as `Hamsam.'
Kalamandalam Gopi
Among the stalwarts in the domain of Kathakali acting, the name Kalamandalam Gopi has been reckoned by art lovers and scholars of Kathakali. It is because Mr. Gopi is endowed with a distinguished style and outstanding performance capabilities, which easily makes him a master performer of Kathakali.
Passion for Kathakali
Born in 1938, Mr. V. M. Govindan, who later became popular as Kalamandalam Gopi started training in Ottan Thullal, when he was nine years old. He learned it under the tutelage of Mr. K. P. Parameswaran Nambeesan. Mr.Gopi soon took up training in Kathakali under the guidance of Thekkinkattil Ravunni Nair. Mr. Gopi later realized his passion for Kathakali when he underwent rigorous training spanning seven years at the Kerala Kalamandalam.
At Kalamandalam, he developed into a thorough-bred Kathakali actor and was fortunate enough to have trained under the masters like Mr. Raman Kutty Nair, Mr. Padmanabhan Nair and Vazhenkada Kunju Nair. After graduating from Kerala Kalamandalam, he became a teacher there in 1957.
As an actor, Mr. Gopi always looked well-suited to the costumes that he wore, especially while performing his favourite characters like Pacha (pious characters) and Kathi (villainous characters). A well trained Kathakali artiste, Mr. Gopi's profound knowledge of Puranas (mythologies) has helped him to perform well the characters that he presented on stage, backed by good presence of mind and great skills in improvisation during the course of a performance.
Artistic talents
Well-known for presenting gentle and pious characters, known technically in Kathakali as Pacha Vesham, Kalamandalam Gopi is noted for his performance as Arjuna in the Kathakali play Kalakeyavadham, where Mr. Gopi's exceptional talent as an actor comes to the fore, while turning down the pleas of love by the damsel of the heavens, Urvasi.
Equally outstanding has been his performance as Nala. Another widely acclaimed performance of Mr. Kalamandalam Gopi is that of his performance as Karna in the play Karnasapadham, which is noted for emotionally intense situations during the dialogue between the son and the mother, Karna and Kunti.
Exceptional performance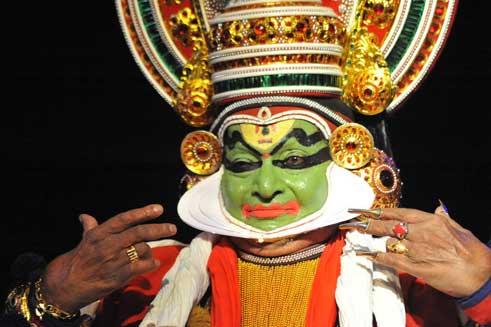 Mr. Gopi also has a unique style while performing characters in the Kathi mode. And he relishes doing Keechaka and also the character of Ravana in Ramba Pravesam. These two characters, while exuding sentiments of love also demands a restrained manner of presentation, where they should not exhibit the typical serious nature associated with Kathi Veshams.
Some of the other celebrated roles of Kalamandalam Gopi are that of Arjuna in Santhanagopalam, Bheema in Kalyanasougandhikam and Roudra Bheema in Duryodhanavadham. He has also excelled in combination with his fellow artiste, Mr. Kottakkal Sivaraman, a specialist in presenting female characters and the duo is considered one of the best while performing together the sentiment of Sringara (romance).
Awards
An audience-friendly performer, Kalamandalam Gopi attains perfect beauty while maintaining postures during performance, which complements well with the emotive elements attached to the characters presented.
Mr. Gopi, who is the recipient of 2007 Kerala Sangeetha Nataka Academy fellowship, has also been honoured with the Kendra Sangeetha Nataka Academy award (Central Govt.), Kerala Sangeetha Nataka Academy award and the Kerala Kalamandalam award.
Address
Kalamandalam Gopi
Gurukripa
Mundoor
Peramangalam
Thrissur