The Best Actor winner for the year 1999
The President Shri. K. R. Narayan presented the Award for the Best Actor-1999 to Shri Mohanlal for his role in the Malayalam Film VANAPRASTHA, at a function in New Delhi on September 18, 2000...
About his background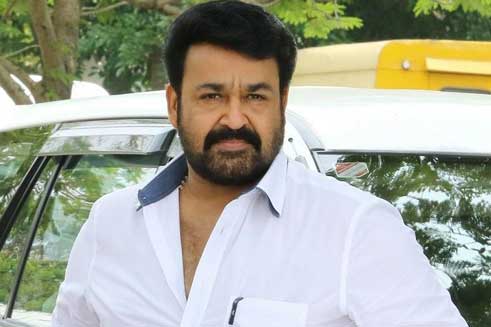 Mohanlal was born on May 21, 1960, in Elanthur, Pathanamthitta district to father Vishwanathan Nair, an advocate, and mother Santhakumari and later shifted to Muduvanmukal in Thiruvananthapuram. He started acting right from his school days. He became popular during the 80s and early 90s for his light-hearted roles with his easy and natural acting style during a period which was also known as the golden age of Malayalam movies.
Film Career
Mohanlal was first introduced to Malayalam movies when his friends established a movie company called Bharath Cine Group. On the Banner, they shot a film titled Thiranottam where Mohanlal was given a small comic role. The film ran into trouble with the Censor Board and was never released. He got his first breakthrough in 1980 at the age of 20 when he was selected for the role of Narendra in Manjil Virinja Pookkal under the banner of Navodya productions directed by Fazil. He was noted in Uyarangalil a film release in 1984 where he plays the role of cheat and deceiver, written by noted script-writer M.T Vasudevan Nair. It was a turning point in his career. He then acted in Poochakkoru Mookkuthi directed by Priyadarshan.
Career Peak
During the 80s and 90s, Malayalam Cinema is lauded at its peak. As a young talent on the rise, Mohanlal obtained roles that gave him ample scope to display a wide range of emotions and started some very fruitful associations with some of the best directors and writers in Malayalam cinema. In 1986 came T.P Balagopalan M.A in which Mohanlal has won Kerala State Film Award for his outstanding performance, directed by Sathyan Anthikad. His outstanding role as Vincent Gomes, an underworld don in Rajavinte Makan makes Mohanlalone of the two leading stars in Malayalam cinema along with the other popular Malayalam actor, Mammootty.
In the same year, Thalavattam directed by Priyadarshan was released where Mohanlal plays the role of Vinod who turns mentally ill after the death of his love. The movie shows how he can get into the soul of any character. Another hit Sanmanassullavarkku Samadhanam in 1986 directed by Sathyan Anthikad and Srinivasan, where Mohanlal plays the leading role as Gopalakrishna Panikkar, is a brilliant performance with humorous dialogues in village background scenes. His role as a journalist in M.T Vasudevan Nair's Panchgani is also remarkable. Namukku Parkkan Munthiri Thoppukal is a warm and lyrical motion picture centered around Malayalee Syrian Christian-Nasrani life. It was based on the Malayalam novel Nammukku graamangalil chenna raappaarkkaam ("Let us go and dwell in the villages") by K. K. Sudhakaran where Mohanlal plays the lead role of a farm owner.
His role in Gandhinagar 2nd Street as a Nepali Goorkha brings a new twist to his career. His association with Sathyan Anthikad and Srinivasan who excelled in making socially hard-hitting satires, brought Varavelpu in 1989 depicting trade union problems plaguing Kerala in a satirical dark comedy and some stellar performances from the lead actors. He plays the role of a young Keralite who returns to his home state of Kerala after 7 long years of toil in the Gulf. This movie went onto become a huge commercial and critical success. Chithram was released in 1988, directed by Priyadarshan and containing musical comedies where Mohanlal plays the role of Vishnu, a prisoner who has escaped from jail after being sentenced to death. He is a photographer and accidentally kills his wife. His son is suffering from a chronic illness. He escapes from jail to amass money for his son's medical treatment.
In the 90s he continued his success with His Highness Abdullah directed by Sibi Malayil where he played a Muslim disguised as a Nambodiri brahmin to assassinate a king. His other notable films are Midhunam, Minnaram, Thenmavin kombath, Devasuram, Sphadikam, Manichitrathazh, Aaram thamburan, Narasimham, Praja, Naran, Kalapani, Thanmatra and Hello.
He acted in his first Tamil Movie when popular director Mani Ratnam teamed him up in his movie as MGR in Iruvar. It had Mohanlal playing MGR, a cult figure of the neighboring Tamilnadu. Iruvar is the tale of two men - Selvam, the poet and rising politician, and Anandan, a budding actor. This friendship saw, with the rhetoric of the former and the popularity of the latter, the birth of an alliance which politically took the State by storm. And yet, it was the same politics that drove them apart; a separation that was politically permanent.
In 2002, Mohanlal acted in Company, his first Bollywood movie. His second Bollywood movie Ram Gopal Varma Ki Aag, which is the remake of the 1975 blockbuster movie Sholay, is in the post-production stage
Highlights
Kerala State Film Awards
In 1986, Best Actor- T.P Balagopalan M.A.
In 1988 Actor (special Award) - Padha Mudhra, Chitram, Utsavappittennu, Aryan and Vellanakalude Nadu.
1991 Best Actor- Ulladakkam, Kilukkam, Abhimanyu.
1995 Best Actor- Kalapani, Spadikam
1999 Best Actor- Vaanaprastham
2005 Best Actor- Thanmatra
National Awards
1989 Jury's Special Mention –Kireedam.
1991- Best Actor-Bharatham
1999- Best Actor-Vaanaprastham
International Awards
International Indian Film Academy Awards (IIFA).
2002 Best Supporting Actor- Company.