Kerala's rich repertoire of fairs and festivals drawn from varied cultures and civilizations form an integral part of its diverse tourist attractions that contribute significantly to the growth and development of the tourist industry in the state. The colorful mosaic of social fairs, carnivals and festival celebrations associated with local places of worship and Malayalam calendar events are very much part of the cultural ethos of the state signifying a spirit of joy and communal harmony.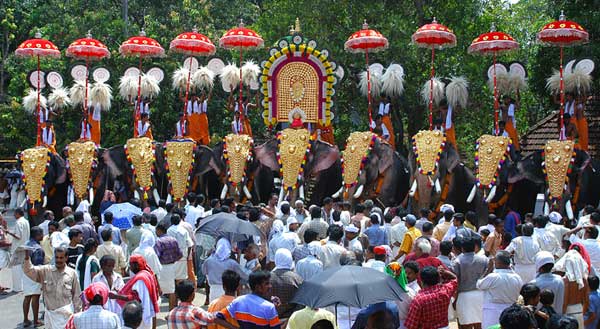 The festival occasions invariably form part of the itinerary of the tourist visiting the state and are must-see events to get a wholesome feel of Kerala. Every season seems to usher in a new festival, each one in celebration of the bounties of nature. These occasions call for fun, merrymaking, exhilaration and foster unity and brotherhood among the cross-section of people in society. Travelers partaking in the festivities can get a first-hand feel of the lively and vibrant atmosphere associated with the fairs and festivals belonging to different religions, castes, and communities in Kerala.
The foremost social festival of Kerala is Onam which is held in celebration of the newly cropped harvest. The best time for a traveler to be in Kerala is during the Onam season. Offices, public places, and homes are spruced up for the occasion, holidays are declared, people get together and indulge in shopping, merrymaking, exchanging pleasantries, sweetmeats, and gifts. The season is marked by revelry, cultural pageants, performing arts, floral decorations, snake boat races, and water carnivals, traditional rituals and feasts, fireworks display, and more. Visitors especially those from outside the state and country love to be in this land during the festival season.
The State Government has undertaken a lot of exciting activities to give a boost to tourism during the festive season. Tourists are given plenty of choices to explore and discover Kerala at its best, in the form of attractive packages that offer a wholesome treat to the senses and true value for money, enabling them to carry back home wonderful and eternal memories of the green country.