Kerala is known for its densely forested mountain ranges comprising the Western Ghats and covering tropical evergreen, deciduous and semi-deciduous jungles that are home to some rare, exotic plant life and wildlife species. These hill stations and high range zones are the favorite haunts of nature and wildlife enthusiasts. On these hills, slopes are cultivated expansive stretches of coffee, tea, rubber and fragrant spices such as cardamom, pepper, and clove. These pristine and nature-rich highland areas exude a unique charm of their own, serving as ideal picnic spots as well as hikers'/trekkers' paradise and rock climbing/mountaineering hubs.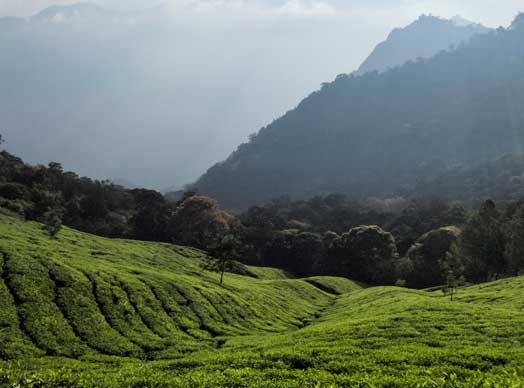 The mist-clad hills of Kerala, surrounded by fresh mountain air, offer panoramic views of the verdant valleys dotted with villages, cattle farms and gurgling streams making a picture perfect setting. Munnar, one of the most breathtakingly beautiful hill destinations in the country, has for highlights, the rare wildlife species of Nilgiri Tahr and the unique blossom Neelakurinji which blooms only once in 12 years. Other high range hotspots like Wagamon also offer excellent venues for adventure activities such as paragliding, camping, and mountain treks.
During the monsoon season, the high ranges have a magnetic appeal, heightened by the effect of the numerous gushing brooks and the silvery cascades of majestic waterfalls crashing down the gorges into the valley below. The whole of the Western Ghats wears a fresh green, enhanced look and the rainforests are witness to an abundance of flora and fauna. Wildlife is found to be active near the water holes, a wide variety of insects and birdlife are also seen.
The high ranges are characterized by a dense undergrowth of bushes, trees with large and thick foliage, mosses, lichens, and in short greenery everywhere. Travelers can avail the services of towering treetop houses that offer some unforgettable adventure moments of wildlife watching and facilitate bonding with nature. There are many unexplored nature locales among these hill spots that offer tranquility and relaxation to the visiting tourists.