A salute to Citizen Narayanan
"Nation lost a true nationalist, democrat and a messiah of the downtrodden'' on Nov, 10th 2005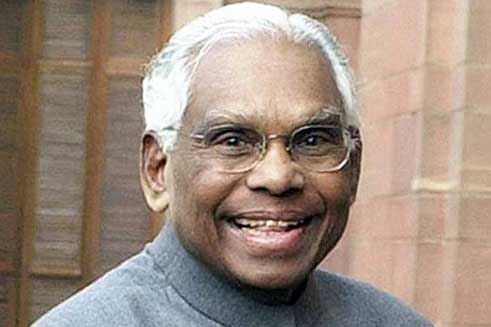 Kocheril Raman Narayanan inherited the presidential office at a time the Head of State was firmly imprinted in the public perception as a "rubber stamp" figure. The occupant of the Rashtrapati Bhavan unfailingly acted on the aid and advice of the Union Cabinet, rarely if at all went public with his opinion. It was unthinkable that the first citizen could admit to a political vision that was at variance with that of the government of the day. President Narayanan defied the stereotype, pushing the envelope in areas that were previously unexplored but without ever becoming activist in a way that would have undermined his constitutional role. In his own words, he was "not an executive President but a working President, and working within four corners of the Constitution"
President Narayanan was a brilliant example of a man who made his office rather than has his office make him. On February 16, 1998, he joined other citizens at a polling booth to cast his vote. This was unprecedented and naturally, the question arose whether this did not amount to a partisan act. In fact, this long overdue gesture corrected the erroneous impression that Presidents had to be apolitical in order to be impartial; in asking to be seen to be exercising his franchise, Mr. Narayanan underlined that he was the President of a democratic nation.
Mr.Narayanan used his discretionary powers to innovate and improvise. In the tricky area of Prime Ministerial appointment in a hung Parliament situation, he established procedures and principles that were based on sound reasoning. Up until 1996, Presidents followed the practice of calling the leader of the single largest party in the Lok Sabha to form a government. This mechanical approach led in 1996 to the farce of Atal Bihari Vajpayee being invited to a form a government that collapsed in 13 days. Mr. Narayanan rejected the notion that the single largest party or coalition necessarily had the first claim to office. Instead, the competence of the Prime Ministerial claimant had to be judged by whether or not the person enjoyed the confidence of the House. Thus he set a new precedent whereby it became mandatory for a person staking a claim to the Prime Minister's office to produce letters of support from alliance partners.
President Narayanan twice returned for reconsideration questionable Union Cabinet decisions. In October 1997, the Inder Kumar Gujral Government was forced to reconsider its decision to dismiss Uttar Pradesh Chief Minister Kalyan Singh, and in September 1998, referring to the President, the Vajpayee Government went back on its decision to dismiss the Rabri Devi Government in Bihar.
Yet, Presidency was more than a constitutional office for Mr.Narayanan. It was a means to remind the rulers of the country that progress without a social conscience amounted to very little. The poor Dalit boy who had seen and suffered gross social prejudice may have reached the zenith of constitutional office but the elder first citizen in his place still impatiently waited for the dawn of a new era of economic equality and social justice, of an India without communal tensions. Perhaps it was this restlessness that caused President Narayanan often to speak from his heart, without allowing concerns of propriety to divert him from what he saw as his social mission. As India completed 51 years of Independence, Mr. Narayanan departed from convention to speak to N. Ram.
The televised conversation saw President Narayanan engage the questions frontally, with candor. He was emphatic that India's parliamentary system could function "only in an atmosphere of social and economic progress, and great equality." There had been achievements "but the march of society, of social change, has not been fast enough, nor fundamental enough so far." India's liberalization was irreversible, he said, but cautioned that "in a vast country with millions of people and poverty rampant, we cannot liberalize recklessly, in such a way that the balance of society is upset and while some sections would flourish, make profits, the rest of the people would be left without employment and be helpless." Mr. Narayanan made a case for giving a sense of economic liberation to the masses, "and for that, I think the basic thing we have done or we attempted to do, in the beginning - and we have not yet completed that process - is that of land reform."
The President spoke at length on issues of the time. "I don't think nuclear weapons are necessary for the world," he said even as he distanced himself from the hawkish anti-China rhetoric of the Vajpayee Government, describing as "temporary" the problems between the two countries: "There has been no change in India's need for living in harmony and in cooperation with all our neighbors including Pakistan, and of course our big neighbor China, and others." Mr.Narayanan's remarks had the important consequence of breaking the diplomatic ice with China at a difficult time.
Mr.Narayanan was at the end of his Presidency when communal riots broke out in Gujarat in March 2002. He went on record to call it a "grave crisis of society and the nation." The full extent of his anguish was revealed much later when, in an interview given on the third anniversary of the riots in March 2005, he said he had written to Prime Minister Vajpayee seeking immediate deployment of the Army to control the situation but to no avail. He went so far as to suggest a conspiracy behind the pogrom involving the BJP Governments in the State and at the Centre.
Born into a Dalit family in Uzhavoor village in the erstwhile princely state of Travancore, Narayanan was the fourth of seven children in the household of Kocheril Raman Vaidyar, an ayurvedic physician. Though he was born on February 4, 1921, an uncle who accompanied him to the local primary school on his first day did not know his actual date of birth and chose October 27, 1920 - a date which has remained on the records ever since. He was later enrolled in an English medium high school at Kuravilangad, some eight km away, and often he covered the distance to and from school on foot.
Those days, there were no education concessions for Dalits and it was with great difficulty that his father paid the fees for him. However, while in high school, Narayanan occasionally received financial help from Gandhiji's Harijan Sevak Sangh. As his brother, K.R. Bhaskaran, once said, though Narayanan had the fortune to attend some of the best academic institutions in the world later, his real education was at home, under the tutelage of his elder brother, Neelakantan, who died at the young age of 34. Too poor to pay the fees or even buy textbooks, Narayanan was helped out by his elder brother who would borrow texts from others and copy them down for him. "The idea that liberation could be achieved only through education was instilled in him at an early age," said Mr. Bhaskaran.
At the University of Travancore, Narayanan read English Literature and received a first class in B.A. and M.A. Presumably due to caste considerations, he was denied a permanent teaching job in the university as was the norm for toppers at the time. Hurt and agitated, the young Narayanan boycotted the convocation ceremony and refused to accept his degree certificate. Fifty years later, when he was President of India, his certificate was handed over to him at a special function.
After a number of inconsequential jobs, Narayanan was offered a studentship in journalism by The Hindu in Madras. Around the same time, he received a favorable response from the J.N. Tata Endowment to his application for a scholarship to pursue higher studies abroad. Admission to the London School of Economics was arranged for the academic year commencing 1945, following which Narayanan returned to Madras to work for The Hindu. The following year, he worked briefly with The Times of India in Bombay where he had occasion to meet and interview Mahatma Gandhi. In the summer of 1945, Narayanan set sail for London. While his ship halted at Port Said, news came that the war in Europe had ended.
At the London School of Economics, Narayanan plunged into his academic work and also had time to take part in the activities of V.K. Krishna Menon's India League. He developed a close rapport with Professor Harold J. Laski and was also taught by distinguished professors Lionel Robbins, Karl Popper, and Friedrich Hayek. Among his friends at the LSE was Pierre Trudeau, who later became the Prime Minister of Canada.
A distinguished career
After securing the LSE's prized B.Sc. (Econ.) with a rare first division, Mr.Narayanan returned to India armed with a letter of introduction from Laski to Jawaharlal Nehru. The Prime Minister gave him an audience that lasted 20 minutes and asked him to leave his curriculum vitae behind. Soon after, Narayanan received an offer to join the Indian Foreign Service, which he did in 1949. As a young diplomat, Mr.Narayanan's first posting was in Rangoon, where he met his future wife, a Burmese woman named Tint Tint who subsequently took on the name Usha. They married in 1950 in New Delhi after Nehru granted special permission for an IFS officer to marry a foreign national.
After postings in Tokyo, London, Canberra, and Hanoi, Mr.Narayanan served as India's Ambassador to Thailand (1967-69), Turkey (1973-75), and most importantly, the People's Republic of China (1976-78), where he was the first Indian Ambassador posted since the 1962 war. It was during Mr. Narayanan's time in Beijing that political, economic and trade normalization was established between India and China.
In 1978, Mr.Narayanan retired from the Foreign Service but was quickly drafted as Vice-Chancellor of Jawaharlal Nehru University. In 1980, he was sent by Prime Minister Indira Gandhi as India's Ambassador to the United States, where he helped arrange Ms. Gandhi's landmark 1982 visit to Washington during the Reagan presidency. Upon returning from the U.S., he entered parliamentary politics, contesting from Ottapalam in Kerala in the 1984 Lok Sabha elections.
In his first term as a Member of Parliament, Mr.Narayanan was inducted into the Rajiv Gandhi Cabinet as Minister of State for Planning. He later became Minister of State in the Ministry of External Affairs and then in the Ministry of Science and Technology. Though the Congress lost the 1989 elections, Mr. Narayanan held on to his seat. In August 1992, as an ordinary sitting MP, his name was proposed by the Congress for Vice-President. His nomination received all-party support and on August 21, he was sworn in to the country's second-highest constitutional post. On July 25, 1997, Mr. Narayanan took office as the 10th President.
He is survived by his wife Usha, and two daughters, Chitra and Amrita.
During his tenure as President, he joined other citizens at a polling booth to cast his vote
He used his discretionary powers to innovate and improvise
Broke the diplomatic ice with China at a difficult time
He twice returned for reconsideration questionable Union Cabinet decisions
The President never allowed concerns of propriety to divert him from what he saw as his social mission
He made a case for giving a sense of economic liberation to the masses ... that of land reform