The queen of Indian track and field for two decades, P.T. Usha has been associated with Indian athletics since 1979.
The titles associated with her are Queen of Indian Track and field, Asian sprint queen, Payyoli Express, Golden girl
Her name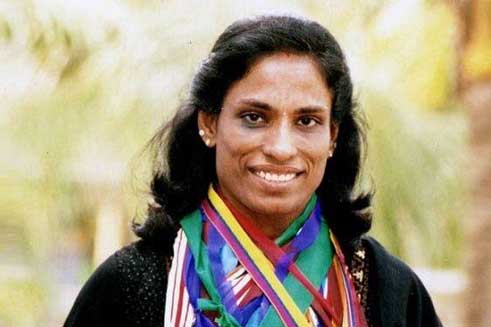 P.T Usha - Pilavullakandi Thekkeparambil Usha. Born as the daughter of Paithal and Lakshmi, at Payyoli, a small village in Kozhikode, Kerala, on June 27, 1964. She is nicknamed as 'Payyoli Express' for her speed on the track.
Her Growth
In 1976 the Kerala State Government started a Sports School for women, and Usha was chosen to represent her district, at a cost of Rs. 250 per month paid by the state.
Her Coach
In 1979 she participated in the National School Games, where she was noticed by O. M. Nambiar, who coached her through most of the rest of her career.
Her success
P.T.Usha created her first national record (in the 100 m) in 1977 when she was just 13 years old. An astrologer had predicted greatness for this girl from an average middle-class family.
Her Success story
Usha made her international debut at the Moscow Olympics in 1980 but she shone into the limelight in the 1982 Asian Games in New Delhi, winning the silver in the 100 m and 200 m event. At the Asian Meet in Jakarta in 1985, Usha established herself as the Asian sprint queen with five gold medals (in the 100meters, 200m, 400m, 400m hurdles, and the 4x400m relay) besides a bronze in the 100mrelay.
This magnificent performance was followed by an equally brilliant spell a year later at the Asian Games at Seoul where Usha notched up four golds and a silver medal.
The finest and saddest moment in life:
The finest moment in Usha's career and also perhaps the saddest, however, came in a single race at the 1984 Olympics in Los Angeles. In the 400m hurdles, Usha missed winning the bronze by just 1/100th of a second. She recorded her best time of 55.42secs in that race -- still an Indian national record -- but lost the medal in a photo-finish.
Usha said that she cried after the event because "It was difficult to believe that I had missed an Olympic medal by a whisker."
Her Marriage and sports
In 1991, she married V. Srinivasan, and their son Ujjwal was born the following year. Although she enjoyed domesticity and motherhood, she was drawn back to athletics and astonished the country by winning bronze medals in the 200 m and 400 m at the Asian Track Federation meet in Japan, 1999. And, silencing her critics, at the age of 34 she set a new national record for the 200m, improving on her own previous record.
Her School
P.T Usha started a School of Athletics for imparting training to girl children from all over the country. The School, located at Koyilandi near Kozhikode in Kerala, recruits children in the 10-12 age group for its training.
Present Usha
Usha has won 101 international medals so far. At present, she is employed as an officer in the Southern Railway. In spite of her age, married status and motherhood she is still active in sports.